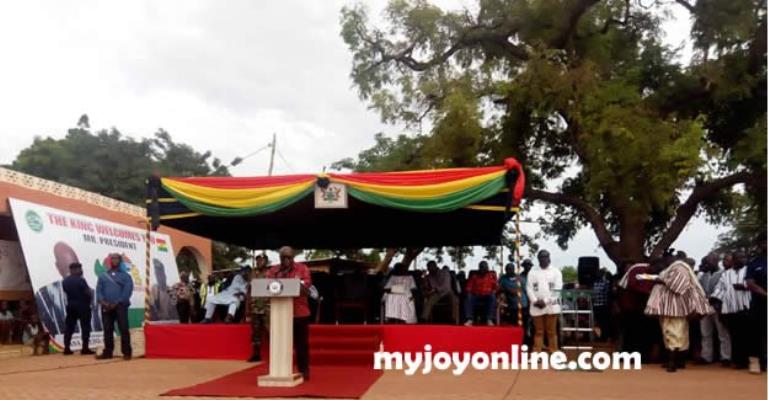 The president Nana Akufo-Addo says his government's one household; one toilet facility promise is on course to improve the poor sanitation situation in Ghana.
In line with that, a total of 5,000 toilet facilities are to be built with a World Bank facility under the Ministry of Sanitation and Water Resources community toilet programme.
"We are determined to fulfill the one toilet one household commitment that we gave," the president told the chiefs and people of the Northern Region where he is on a three-day tour.
"Very soon by the grace of the Almighty and our hard work open defecation in Ghana is going to be a thing of the past," the president assured.
The 2016 campaign was pregnant with clear, unambiguous promises by the NPP to provide dams, factories towards the development of the country.
In its manifesto, the NPP promised a one village one dam in the three northern regions, one district, one factory across the country, one constituency, one million dollars for development projects across the country.
There was also the one house, one toilet facility across the country, a promise which the president said has begun earnestly in addition to the others.
"New boreholes are going to be drilled to add more water. As the minister said all the pipelines are going to be replaced so that we can bring water to all household. With the beginning of the work, in September Mamprugu will get to improve its water system," the president said.
While commending the president for the good works his government has begun, the chief of Mamprugu expressed worry over the increasing power fluctuation in the region.
Naa Mahami Abdulai Shiriga said the erratic power supply is having a deleterious effect on development in the region.
He called on the government to support the northern electricity distribution company with funds to ensure they improve power supply.
The chief also appealed to the president to help resource the NHIS to be able to provide affordable healthcare to the communities.
On the poor infrastructure in the region, the chief, Naa Shiriga also appealed to the president to improve infrastructure in schools in the area.
He also drew the attention of the president to the Yagba road which has stalled and praised the president for his several pro-poor policies.