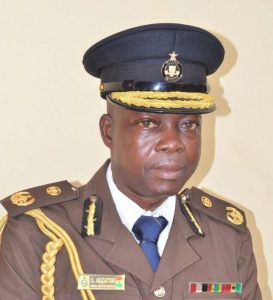 A total of 148 male convicts are on the death roll across the country's prisons as at the end of last year compared to 139 the previous year.
Also, 11,101 people were convicted and sentenced into various terms in prison across the country in 2016 as against 11,829 in 2015
The Chief Public Relations Officer (PRO) of the Ghana Prisons Service (GPS), Deputy Superintendent of Prisons (DSP) Vitalis Aiyeh revealed this to The Ghanaian Times in Accra yesterday, stating that the country's prison population was 13,129 as at the end of December last year.
He said there had been reduction in convicted cases as a result of Amnesty and the Justice for All programmes.
The Chief PRO said last year, the President pardoned two prisoners during the commemoration of the Independent Day on March 6, and the Founder's Day on September 21,"he said.
DSP Aiyeh said as part of efforts to reduce congestion at the prisons, a High Court had been set up at the Nsawam Medium Security Prisons to expedite trials of accused persons and convicts.
He said the GPS had intention to set up more High Courts in prisons in the other regions to ease overcrowding.
To improve health care delivery, the PRO said 70 per cent of the prisons inmates'population had been migrated unto the National Health Insurance Scheme.
He called on the courts to expedite action on cases to help reduce congestion, adding that justice delivery system was slow as cases were adjourned and accused persons remanded in prison custody.
DSP Aiyeh suggested to help reduce congestion at the prisons, community services, and non-custodial sentences should be given to offenders, asked to pay fines to the states or go for arbitration.
He said the Prisons Service gave the inmates vocational skills training such as carpentry, plumbing, poultry, bakery, sowing and hairdressing, among others, as part of efforts to help re-integrate them into society, after serving their sentences,.
''We engage them in training and also give them seed money to help them work after their sentence," he said
The PRO revealed that inmates were given GH¢1.80 pesewas for three square meals, saying that "As supplementary the GPS have backyard gardens and farms to help feed the inmates."
By Anita Nyarko-Yirenkyi