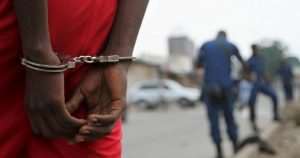 Some 22 persons allegedly engaged in drug trafficking have been arrested in a joint operation by the Narcotics Control Board (NACOB), the police and their counterpart agencies in Nigeria.
A joint statement from the agencies said substantial quantities of drugs and an amount of USD22, 000 were seized from the suspects.
"This operation resulted in the arrest of 22 suspects, the seizure of substantial quantities of drugs, namely: 15.7 kg cocaine, 9.21 kg heroin, 8.17 kg methamphetamines, 596.338 kg cannabis, 4 kg of khat, 267 tramadol pills (225 mg) and USD 22,000 cash," the statement added.
The statement stated that the security agencies upon the arrest of the suspects also had intelligence of some "20 potential victims of human trafficking; circulation of travel documents for potential use in illicit activities; movement of high value assets linked to money laundering; tax evasion modalities; new methods of drug concealment and suspected cyber-related offences."
The joint operation was conducted between the Drug Law Enforcement agencies in Ghana, namely NACOB, Ghana Police Service, Drug Law Enforcement Unit (DLEU) and Nigeria's National Drug Law Enforcement Agency (NDLEA).
The operation involved two periods of activities over the past two months, with a total duration of 15 days, code-named 'Operation Eagle.'
129 law enforcement personnel were involved in the operation in Ghana and where they simultaneously gathered intelligence on counter-narcotics operations targeting the movement of drugs in both countries.
This, the statement said was aimed at tackling drug trafficking activities of organized crime groups operating in Nigeria and Ghana.
"Based on the lessons learned from this pilot joint-operation, it reinforced the need to align actions and share intelligence between both countries to tackle the clandestine operations of organized criminal groups to enhance the efficiency of law enforcement responses."
The statement also said the operation demonstrated that working in close partnership with law enforcement agencies has proven to be highly effective in generating operational results and intelligence dividends."
"It is expected that this type of operation will be replicated and expanded in the near future," the security agencies added.