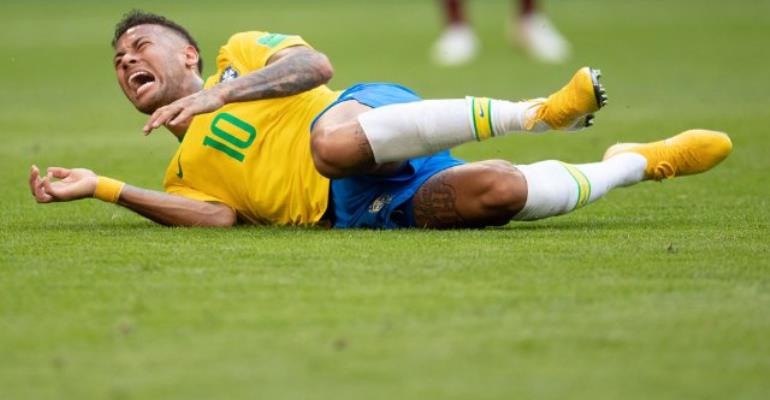 But it doesn't improve it much, either. Cancelling a Neymar penalty showed its value, but the snagging list was long: delays, missed calls and wrong calls, all of it encouraging dissent. One of the system's suspect moments – Russia's Ilya Kutepov being cleared of fouling Sergio Ramos in the box – earned meme status. Among the VAR verdicts: "It's not fit for purpose" (Gary Neville); " It's bullshit " (Nordin Amrabat); and "It's extremely satisfying" (Fifa). 2) The subplot has run its course
Ronaldo v Messi never got going. Instead, Saturday 30 June was a watershed moment: both sent home early while Kylian Mbappé scored twice in four minutes. Mbappé says he's not bothered by Ballon d'Or talk. "I couldn't care less about that. I want the World Cup. I want to sleep with it." 3) England can hold it together
In the end, it didn't take much to change England's penalty psychosis: just a new mental approach based on inflatable unicorns, rubber chickens, trust exercises, Oscar Wilde quotes on the walls, "re-framing emotions" and some solid management speak. "We spoke a lot about owning the process," Gareth Southgate said before the last 16. Colombia had no chance. 4) The English public really needed someone to believe in
5) Luka Modric wasn't tired Southgate started as coach-by-default: a beige failed ex-Boro manager. He ended it touted as the English Macron, fit to lead a new centrist party of national unity. Tributes included his Atomic Kitten remix and lifestyle think-pieces with headlines such as: "Gareth Southgate Is The Manager We Wish We Had At Work". He's a style icon now, too.
"They were talking about us, the English journalists, pundits from television," Modric said after Croatia's semi-final win. "We were reading all those words and we were saying: 'OK, we'll see who is tired'." He finished the game having taken his total distance covered in six games to 63km, more than any player. "They should have been more humble," he said. "They should have shown more respect." 6) Everyone loves simulation
Neymar's rolls inspired all the best gifs. "I don't care much for criticism," he said before going home early. "It's just an attempt to undermine me." Also contributing to the entertainment: Luis Suárez, producing a rare double-bounce dive against Egypt; and Pepe, reacting to being patted on the shoulder against Morocco by doing what Pepe does. 7) Always take it one job at a time
8) ITV: still cursed Julen Lopetegui said his eve-of-tournament sacking by Spain – prompted by Real Madrid announcing they'd hired him – was "the saddest day of my life since the death of my mother." FA head Luis Rubiales said he'd had no choice: "There's a way to behave, and this is not it." It didn't end well for Spain, but Real were happy enough: the sacking saved them a reported €2m contract buy-out fee.
Both ITV curses delivered again: one major England defeat, and one advert mix-up – ads replacing the start of Russia v Saudi Arabia online. Other big moments included Sam Matterface describing Cristian Pavón as "the same height as Kirsten Dunst, or Mel from Mel and Sue", and the expression on Lee Dixon's face when Mark Pougatch asked him to analyse the summer's geopolitical backdrop on day one: "Everyone is aware of what's going on. But now it's football's time."
9) There's still no better way to launder a regime's reputation
Chechen warlord Ramzan Kadyrov spent his summer doing PR with a bewildered Mo Salah; Vladimir Putin said playing host had "helped break many stereotypes about Russia. This is a friendly country." Gianni Infantino was happy to help. "This World Cup is changing the perception of Russia, particularly from us in the West. Even the police are smiling! I feel like a child in a toy shop." 10) The more things change the more they stay the same
Always a big part of any tournament: Fifa taking the edge off its own "zero tolerance on discrimination" message. This year: fining Russia €8,500 for a neo-Nazi banner, Mexico €8,500 for homophobic chanting, Sweden €60,000 for "unauthorised sock branding", and Croatia €60,000 for allowing players to consume non-official-sponsor beverages on camera. 11) Not all goodwill ambassadors are the same
12) Official bus slogans are a bad idea Among Diego Maradona's best work as Fifa's £10,000-a-match envoy: getting emotional on white wine and abusing fans; making a " slant-eyed gesture " at South Koreans, and criticising a referee as a "thief". Diego's view: "I send a kiss to everyone, thanks for the support!"
Hyundai, Fifa's official bus slogan sponsor, unveiled Germany's bus branding in May when the mood was upbeat: "This slogan really captures the unity and cohesion of this German team." It meant Germany had to travel back to the airport early in a team bus branded: "Zusammen. Geschichte schreiben/Let's write history together."
13) PR advisers have their uses
Back in week two, @Lord_Sugar was busy handling fallout from his tweet comparing Senegal's players to "beach-sellers". His efforts came in two phases: 1) Before taking PR advice – "It's meant to be funny for god sake", "I cant see what I have to apologise for; you are OTT; its a bloody joke" – and 2) After taking PR advice: "I deleted the tweet. I am very sorry." 14) Animals shouldn't tip football results
It ends badly for them. Rabio the octopus was sold and eaten despite correctly tipping all Japan's group games, Beijing cat White Spot was found dead after getting seven out of 10 matches right; and Britain's Marcus the pig called England's quarter-final wrong and ended up being bullied off social media. One fan wrote: "What a f*****g liar Marcus the pig turned out to be, snake. 15) Enthusiasm is infectious
16) There's no team as decent as Japan Ally McCoist had some " wonderful, wonderful breakfasts ". His best co-commentary: "Kazan has come a long way since it fell to Ivan the Terrible in 1552. It's unbelievable, Jon. If you put me in a corner and nailed me, it's probably my favourite place on the trip so far, Kazan. Just some stunning, stunning, architecture, Jon, I've got to tell you."
A 3-2 defeat in the 94th-minute of their last-16 game left Japan's players in tears. They then went back to their changing room, showered and changed, tided up, removed the rubbish and left a note for ground staff reading "thank you" in Russian. The fans did the same to their stand.
17) And it's not always about winning
When their anthem was played in Nizhny Novgorod before their first ever World Cup game, Panama's studio pundits cried and held each other. When Felipe Baloy then scored their first World Cup goal to make it 1-6 against England, their commentator went to pieces. "My country has scored!" he sobbed . "GOAAAAAAALLL for Panama! The first ever for my country!"