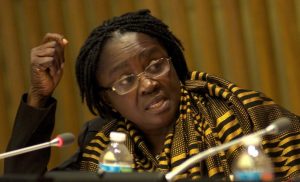 The Education Minister Mathew Opoku Prempeh is under fire for daring to call his predecessor incompetent and an embarrassment.
Two ex-Education Ministers, all within the erstwhile John Mills/John Mahama led National Democratic Congress government have rallied behind Prof Jane Naana Opoku Agyeman, and have, in unison, condemned Mr Prempeh for his utterances.
Betty Mould Iddrisu who was Education Minister under the late John Mills said she was appalled by the comments by the new Minister and demanded an apology for her compatriot.
Samuel Okudzeto Ablakwa who was Deputy Minister of Education under ex-president John Mahama is even more disappointed. He would not demand an apology but would leave it to the conscience of Mr Prempeh to decide on what to do.
Background
The Minister of Education Mathew Opoku, this week, courted the anger of NDC members and some women groups when he described Prof Jane Naana Opoku Agyemang as an embarrassment.
In an interview with Asempa FM's KABA on Ekosii sen, the minister did not understand why his predecessor left behind a mountain of debt in the education sector.
According to him, at every sector and level of education Prof Naana Opoku Agyemang left behind a debt running into several millions of cedis. He did not understand how a Prof, with the experience of Naana Opoku Agyemang, who had risen to the position of the Vice Chancellor of the University of Cape Coast, would superintend over such incompetence.
Outstanding social intervention projects- 131,927.00 million
Yellow Buses distributed to schools———– $18 million
Arrears for textbooks for 2015-16 arrears—–$17 million
Special Schools ie schools for vulnerable—— ¢4.7m
Feeding Grants—————————————- ¢36million
Senior High School subsidy————————–¢24 million
Capitation grant—————————————–¢8 million
Progressive free education—————————¢33 million
These mountain of debts left the education ministry completely crippled, Mathew Opoku Prempeh asserted and described his predecessor Prof Naana Jane Opoku Agyemang as an embarrassment.
Rebuttal
But the comment has not gone down well with a number of NDC functionaries.
Okudzeto Ablakwa told Joy News' Gifty Andoh Appiah no matter the debt inherited by Prempeh and his government he had no right to describe his [Ablakwah] boss as an embarrassment.
When he was asked if indeed the NDC government left behind such a debt, Mr Ablakwa admitted the debts as spelt out by Opoku Prempeh were all contained in the handing over notes Prof Opoku Agyemang handed over to the new government.
"How can you use her own handing over notes against her?" he asked. Even though they left liabilities by way of debts, Mr Ablakwah said they equally left assets, monies some of which were about $80 million in some of the accounts.
"Governance is a continuum," he reiterated and wondered why Mathew Opoku Prempeh will be riding on the debts left behind to denigrate the accomplished educationist.
Ablakwa said the NDC in 2008 inherited a humongous challenge from the then NPP government but went out to call them names.
He said for a Prof, internationally respected and acclaimed, the minister, who during her tenure, saw Ghana become the best in the SHS exams for four consecutive years cannot be described as an embarrassment.
All attempts by Myjoyonline.com to contact the Education Minister for his response proved futile