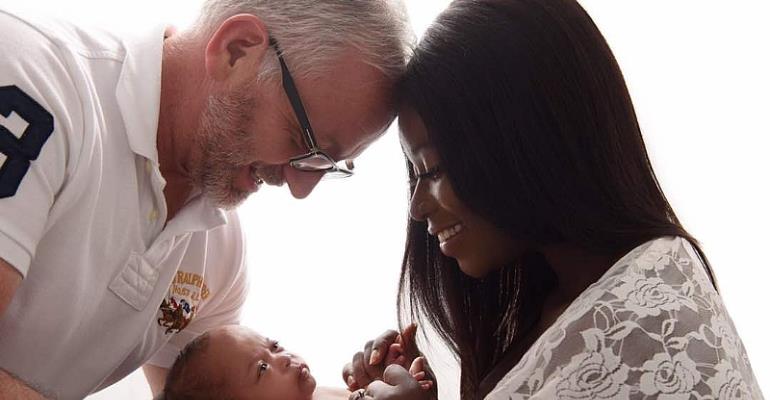 Several months after going off the silver screen to focus on law, it has been confirmed that award-winning Ghanaian actress and Legal Practitioner, Yvonne Okyere-Whalley, has delivered a baby girl, Scarlett Akua Senkyirene Whalley. The 2015 Golden Movie Awards winner joins the list of other celebrities like Nadia Buari and quite recently, Yvonne Nelson, who kept their pregnancy a secret until after delivery.
Yvonne, who is married to Allan Whalley, delivered Scarlett in early January 2018 in the United Kingdom where the couple have been for the past 7 months.
In a Facebook post last week, Yvonne said the journey was not all smooth, but expressed her excitement for the arrival of her new baby.
"MY MIRACLE || MY REASON. My story is long and the journey has been tedious but through it all He never abandoned me. She defied the odds, proved doctors wrong and, of course, stole many hearts along the way. She's absolutely worth every pain! Beautiful people say hello to Scarlett Akua Senkyirene Whalley".
Yvonne also recently paid tribute to the largest single-payer healthcare system in the world, the National Health Service, of the United Kingdom. She thanked the NHS and its health professionals for the high standard of care and support in the safe delivery of her daughter, Scarlett. Yvonne wrote:
Happy anniversary to our amazing NHS – thank you for saving my life, my Daughter's life, my father's life…in fact, the whole of my family. We are incredibly lucky to have you. Many thanks to all the fantastic doctors, nurses, admin, drivers, healthcare assistants and all others who make the NHS what it is. We couldn't thank you enough – God bless you all. It is my prayer that my other beloved country Ghana can learn from you and save its citizens as you do. Happy Anniversary!
Yvonne also celebrated her birthday recently as a new mother and shared a beautiful and intimate picture of herself and her new born on social media. Yvonne is over the moon to be celebrating her first birthday as a mother and sharing this special day with her family. According to Yvonne, being a new mother can be quite challenging but she feels lucky that her husband is a doting father, very hands-on with Scarlett and makes motherhood seem quite easy and very enjoyable.
Yvonne bounced back to the movie industry in 2015 after being away in the UK for several years and her role in "Love Regardless" earned her two nominations for Most Promising Actress and Best Supporting Actress at the maiden Golden Movie Awards. She won the latter.
Yvonne is currently an Associate of first tier law firm in Accra. Her areas of focus are corporate and commercial, property and construction and dispute resolution. Yvonne has advised many clients on several large corporate and commercial transactions.
Yvonne is also the founder of the 'Forgotten Foundation', an NGO that supports disabled children who are mute, deaf, vision impaired and mentally challenged in Ghana. Yvonne has confirmed that she is currently enjoying spending time with her new family and will resume work later in the year.