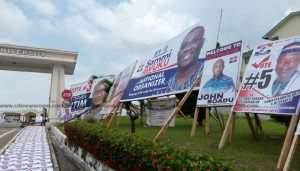 Aspirants, delegates and supporters of the governing New Patriotic Party (NPP) who will be attending the party's national delegates Congress in Koforidua on Saturday, but have not already booked their hotels, may want to consider securing for themselves accommodation very faraway from the Eastern regional capital, or spend the nights in their vehicles.
Over 90 percent of hotels and guest houses in Koforidua and its environs, specifically in Suhum, Nsawam Aburi, Adukrom, Somanya and Tafo, have all been booked.
When Citi News visited some hotels and guest houses to enquire about the availability of rooms none of the hotels had even a storeroom to spare. About 100 hotels and guest houses extending to Tafo, Kukurantumi, Nkurankai, Asokore Osiem and Bunso had all been booked.
The Manager of Capital View Hotel, William Thompson, told Citi News that his hotel was booked three months ago.
"Yes I can confirm that our facility has been fully booked for by the regional coordinators of the party as far back as 3 months ago. We are ready and prepared to receive visitors who will be coming and as such we have made adequate arrangements to meet all their expectations, strict security measures have been put in place to protect the visitors and their properties during their stay here for their Congress".
The demand for accommodation has forced many landlords to speed up work on uncompleted structures and projects to be able to cash in on the big event.
Construction works were busy going on at some hotels and guest houses in the capital as operators and artisans were putting finishing touches to uncompleted projects as other structures were also being renovated to accommodate more of the patrons.
Citi News can confirm that with the exception of Pentecost Senior High School in Koforidua, the regional executives of the party have managed to secure dormitories which were occupied by out-gone final year students of the various senior high schools in Koforidua to house some members of the party who lost out on hotels.
David Prah, the regional communications director of the party confirmed this to Citi News.
"The regional executives together with the national executives set up committees that encompass sanitation, accommodation, security, ground works and other auxiliary committees like communications. With the issue of accommodation as at now, we have virtually secured every hotel and guest house in Koforidua and it's environs for delegates and other dignitaries who will be coming to grace the conference".
"Apart from the hotels and guest houses, a number of senior high schools have also provided us with some accommodation which are mainly not in use because the final year students have completed and as such those rooms are vacant. We can talk about Sectech, Kotech, Pope John SHS, SDA SHS, Oti Boateng SHS, New Juaben SHS among other schools within the municipality that have accommodation to spare".
David Prah added that the senior high schools will benefit from all the renovation works they have carried out in the schools after the elections.
"We have also done a number of renovation works at these institutions like painting, changing of doors, provision of fans and replacement of their electrical fittings to ensure that even after the elections the schools will benefit from them and make good use of it".
Frederick Adjei-Rudolph, the Eastern Regional Director of the Ghana Tourism Authority is confident that hotels in the region will deliver top-notch services for patrons during and after the congress.
"Majority of hotels and guest houses in the region are in good standing with the Authority, those, especially in Koforidua are all in the good books of the authority and I can firmly say they will provide quality services to their patrons during the election of the New Patriotic Party".
"We have been embarking on random unannounced inspections and monitoring of the facilities, and during all those periods we interact and engage them in good, safe and healthy practices at all times, and from the results and feedback, I am certain that delegates and other dignitaries who are visiting the region for the first time will not be disappointed with their services".