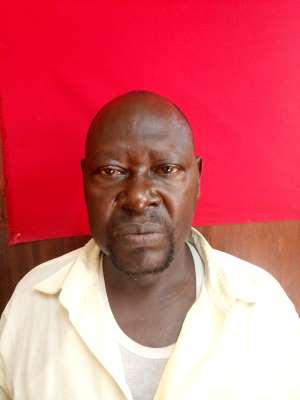 Officials of the Narcotics Control Board(NACOB) have arrested a Ugandan for trafficking narcotics at the Kotoka International Airport.
The culprit BwogoFederick, 53 years was picked-up by operatives of NACOBupon arrival on board Ethiopian Air flight ET 921 from Kampala-Uganda when he was going through arrival formalities at the Kotoka International Airport on April 25, 2018.
The successful exercise was on suspicion that he had ingested narcotic drug, where his urine when sample tested proved positive that he had ingested narcotic drug in his body.
Mr. Bwogo was later sent to the Headquarters of NACOB and placed on observation where within a period of 48 hours expelled sixty-seven (67) pellets. The pellets were field tested and proved positive for narcotic drug.
Initially, he told NACOB investigators that a Pakistani in Kampala-Uganda gave the drugs to him with name unknown to one Ahmed also a Pakistani in Ghana. He however, told prosecutors in court that he was rather sent by a Ugandan national in Kampala-Uganda to deliver the drugs to one Ahmed, also aUgandan national in Ghana for a fee of OneThousand Five HundredUnited States Dollars ($1,500) without knowing the name of the sender.
He added that the person who gave the narcotic drug to him is the same person who purchased his ticket for him to travel to Ghana, adding that receiver of the delivery (Ahmed) was to pay his share after delivering the drug to him in Ghana.
The suspect has been arraigned before court and has been remanded into prison's custody pending final verdict of the case.
NACOB admonishes the public to desist from delivering parcels for and on behalf of others, as it has been the conduit for trafficking narcotic drugs.
The Public is therefore encouraged to voluntarily provide information leading to the successful arrest of persons suspected to be indulging in nefarious activities especially in narcotics related acts.