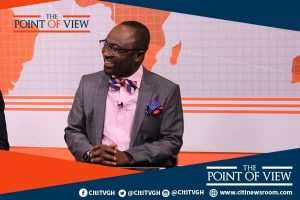 President Nana Addo can appoint a new Electoral Commission Chairperson despite a lawsuit challenging the removal of the immediate past Chairperson of the Commission, Charlotte Osei, Legal Practitioner, Yaw Oppong has said.
A Ghanaian, Fafali Nyonator, has sued the Attorney General over the removal of the EC Chairperson Charlotte Osei from office.
In a suit filed on Tuesday, she asked the court to declare that the committee set up by the Chief Justice, Justice Sophia Akuffo, to investigate separate complaints brought against the three commissioners at the Electoral Commission, exceeded their powers by recommending the removal of the commissioners, and that the recommendations in the report be declared null and void.
She is also seeking "an order of perpetual injunction restraining His Excellency the President of the Republic of Ghana from appointing any persons to the person of Chairperson of the Electoral Commission until that position has become lawfully vacant in accordance with proper processes and procedures as by law established."
But speaking on Citi TV's Point of View, the Lawyer argued that the President is not obliged to wait for a determination of the case before appointing a new EC Boss.
"The President can go ahead and appoint a new EC Boss until a court of competent jurisdiction issues an injunction to restrain him, but even with that there can be a serious issue of whether the court can restrain the President from performing a statutory, mandatory function, but that will be until it is determined and the court has rejected it," the Lawyer argued.
Charlotte Osei according to the Committee, blatantly breached procurement laws in the award of several contracts in her three-year period at the helm of affairs, prior to the 2016 elections.
Excerpts of the Committee's report said it investigated six separate allegations of various procurement breaches, for which a prima facie case was established against Madam Charlotte Osei.
"All the six allegations leveled against Madam Charlotte Osei for which a prima facie case was established by the Honourable Chief Justice, relates to breaches to the Public Procurement Act, Act 663, as amended by the Public Procurement (Amendment) Act, Act 914" the committee's report stated.
Her two deputy Commissioners were also accused of procurement breaches and financial malfeasance.
Meanwhile, the Director of Communications at the Presidency, Eugene Arhin, has hinted that the president would soon announce a replacement for Charlotte Osei.