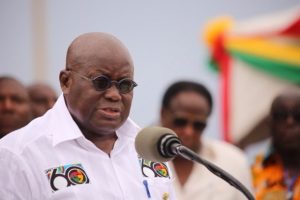 President Nana Akufo-Addo has condemned the Manchester Arena terror attack describing it as "despicable and cowardly acts."
He expressed shock at the attack which left 22 people dead including an eight-year-old girl and injuring over 59 people at Manchester Arena, at the end of a concert by US singer Ariana Grande..
The President tweeted Tuesday saying, "Shocked and saddened by yesterday's terror attack in Manchester, resulting in the deaths of 22 people and injuries to 59.
"I condemn these despicable and cowardly acts, and extend my deepest condolences to the affected families," President Akufo-Addo said in a series of tweets on Monday morning."
Other world leaders have condemned the act and encouraging the British to be strong in a time of difficulty. Security has been heightened across England while the police investigate.
In a related development, the Chairperson of the African Union (AU) Commission, Moussa Faki Mahamat, also condemned the acts.
He expressed the AU's solidarity with the government and people of the United Kingdom (UK) and conveyed his condolences to the bereaved families and wishes speedy recovery to the injured.
Mr Mahamat reaffirmed the AU's strong rejection of all acts of terrorism and violent extremism which have no place in modern society.
He reiterated the commitment of the AU to work with the UK, and all stakeholders, in the prevention and combating of terrorism and violent extremism, within the frameworks of the relevant AU, UN and international instruments.
African Union (AU) Commission, Moussa Faki Mahamat
Mr Mahamat stressed further the need for enhanced international cooperation in sharing relevant information, intelligence and data among relevant agencies, in the fight against international terrorism.
According to the British Police, a man set off a homemade bomb in the foyer at 22:33 BST on Monday, in what Theresa May called a "sickening" act.
Armed police have arrested a 23-year-old man in Chorlton, south Manchester, in connection with the attack.
The Queen is to hold a minute's silence at Buckingham Palace at 16:00 BST.
Three victims have been named so far. The latest named by police is John Atkinson, aged 26, from Radcliffe in Bury.
Eight-year-old Saffie Rose Roussos was a pupil at Tarleton Primary School, in Lancashire.
Her head teacher, Chris Upton, said she had been "simply a beautiful little girl in every aspect of the word" and was "loved by everyone".