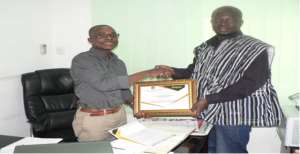 Alliance Waste, a leading waste management service provider, has been presented with the environmental stewardship award for promoting sustainable occupational practices.
The award which was organized by the Humanity Magazine International seeks to promote cleaner and greener environment aiming for sustainable development without degrading the environment.
The Country Director of Humanity Magazine International, Mr. Yahaya Alhassan, praised the company by saying that "over the years your company's environmentally friendly programs have contributed a lot to the community, you have shown professionalism and leadership qualities to transform Alliance Waste into one of the renowned but improving waste management company in Africa".
Mr Alhassan used the opportunity to appeal to Ghanaians to stop throwing waste around, stressing that "a clean environment means a clean and healthier mind needed for economic development".
He pointed that, Alliance Waste's programs of addressing operational challenges confronting waste management operators including the introduction of cutting edge technology in the management of waste is in congruence with United Nations Environment Programmes to coordinate environmental activities and assist developing countries in implementing environmentally sound policies and practices.
Mr. Alhassan described the award as a performance enhancing honor to encourage managers of public and private institutions to do well for the community