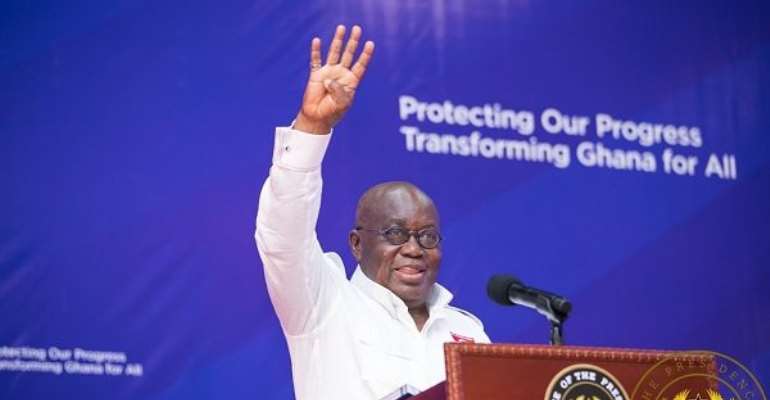 A survey conducted by Global Info Analytics has predicted a 50.4% victory for President Akufo-Addo and the New Patriotic Party (NPP) in the upcoming polls.
The firm also predicted that the National Democratic Congress' John Mahama will garner 34.9% of the votes.
"50.4% of voters said they were going to vote for Nana Akufo-Addo and 34.9% said they were going to vote for John Mahama and 2% were thinking of voting for GUM."
The survey which was conducted across 84 constituencies in November 2020 saw education, jobs, and economy topping the list of key determinants voters will consider before casting their ballots on December 7.
The Executive Director of Global Info Analytics, Mussa Dankwah explained on the Citi Breakfast Show on Thursday, December 3, 2020, said it was possible that 2020 polls could experience a run-off.
This comes on the back of an earlier survey conducted by the Political Science Department of the University of Ghana which also projected a win for President Akufo-Addo.
According to that survey, 51.7% of the 11,000 sampled respondents said they will vote for President Akufo-Addo.
The flagbearer of the opposition National Democratic Congress (NDC), John Dramani Mahama is also expected to follow with 40.4% of the votes cast according to the survey.
After that report was released, President Akufo-Addo said he is encouraged by the result but said he will not be complacent.
"Opinion polls are just opinion polls, and there are votes. Even though I am encouraged, I am not going to be complacent about it and lose my guard on campaigning. Right up to the midnight of December 5 that the laws allow us to campaign, we will continue to campaign for every single vote in the country and make sure it is ours so on the 7th of December 2020, we will be declared winners of the polls."
"Even though I am not going to ignore the polls completely, my focus isn't on it. After the elections, we will all know if the polls are right after the polls, and I am declared the winner," he added.
—citinewsroom