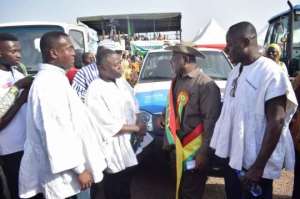 Twenty-five gallant farmers in the Asante-Akim South Municipality, were honoured at this year's 34th National Best Farmers Day celebration held at Dwendwenase near Banso.
They took home various prizes ranging from Wellington boots, bicycles, cutlasses, fridges, radio sets, knapsack sprayers, tricycles, wax prints and certificates in recognition of the hard work.
Madam Margaret Wirekoa, a 61 year-old woman from Dwendwenase was adjudged the overall best farmer, beating Mr Daniel Kusi Agyei and Owusu Nyantakyi who came second and third respectively.
Mr. Alexander Frimpong, the Municipal Chief Executive (MCE), said the toil and sweat of farmers across the country continued to sustain Ghana's food security and paid a glowing tribute to them.
He said agriculture was the mainstay of the local economy with about 85 per cent of the population in the Municipality engaged in farming and other agriculture related activities.
The introduction of the Planting for Food and Jobs (PFJ) programme by government, he noted, was therefore refreshing as it offered opportunity for farmers to access improved seeds and high quality fertilizers.
He said the timely supply of affordable inputs to farmers under the programme was not only targeting increased food production, but also created jobs for the youth.
He disclosed that 435 acres of maize seeds, 90 acres of rice seeds, 50 acres of pepper seeds, 2000 bags of NPK and 1000 bags of Urea fertilizers had been supplied to farmers in the Municipality this year.
The Department of Food and Agriculture had also received 29 beneficiaries of the Nation Builder's Corp, thereby improving extension services to farmers.
He announced that the Assembly was facilitating the establishment of a fertilizer factory at Asankare by a private investor under the One District One Factory initiative.
The project, which is expected to be completed in June 2019, would produce five million litres of fertilizer annually and provide direct jobs for at least 50 people as well as indirect jobs for many others.
The MCE also hinted that several roads in the Municipality had been awarded on contract and was hopeful that their completion would facilitate smooth transportation of farm produce to market centres.
—GNA