A former Deputy Minister for Communication, Felix Ofosu Kwakye, has likened Vice President Bawumia's recent utterances on Ghana's Digital Property Addressing System to political serial callers who call into FM stations to rant over issues.
He made the comment on Eyewitness News on Monday.
According to Mr. Ofosu Kwakye, Dr. Bawumia must desist from purporting to be educating former President Mahama on national issues since John Mahama is far knowledgeable in such issues.
The Vice President, Dr. Mahamudu Bawumia took a swipe at John Mahama over the latter's criticism of the government's recently launched Digital Property Addressing System , Ghana Post GPS.
John Mahama, while addressing teeming supporters of the National Democratic Congress (NDC) after its Unity Walk in the Central Region on Sunday, said "How can you launch a Google GPS system that is freely available on our mobile phone and say it is a national addressing system. It is such a pity. Why will you embarrass the president so much? You go and take a whole president to bring him to come and launch a system that is 419," but Bawumia believes Mahama's comment was from an ill-informed position .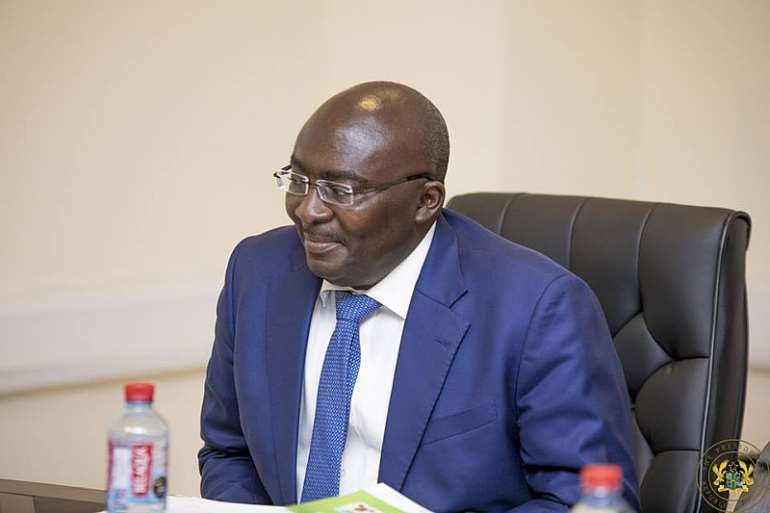 Vice President Dr. Mahamudu Bawumia.
He said, "I read that the former President described Ghana's National Digital Addressing system as a 419 scam. When I read his reasoning for such a description, it became very evident to me that he has no clue about what he was talking about and was just engaged in parroting propaganda. I actually had a good laugh."
But Felix Ofosu Kwakye said the Vice President's response to his former boss was merely propaganda.
"Listening to the Vice President, with the greatest respect to him, one could mistake him for a heartless NPP serial caller repeating the propaganda lines that they became so enamored of in the run-up the 2016 elections. He came across as a man whose hyperbolic description of the Ghana Post App has been punctured by sound technical analysis by people who understand the sector and applications like that. The Vice President is by no means an IT expert, so what he read, was merely what he has been told by the people who developed the app," he said.
"Several independent experts have assessed this app and pointed out deep flaws which do not justify the amount of money that has been invested into it….What government is required to do, is to take on board the criticisms of the experts who have spoken and to look into talks about inflation of the cost of the app. It does not lie in the mouth of the Vice President to come and purport to educate John Mahama on anything," he added.
Meanwhile, a Deputy Minister for Communication, George Andah, says the former President's comment indicated that he lacked understanding of the operations of digital property addressing systems.
He said John Mahama has embarrassed himself with the comment and his handlers must be blamed for the wrong information he put out.
Ghana won't pay Google for address system after 2017 – Andah
Government does not intend to make any more license payments to Google, beyond 2017, for embedding the company's online map into the country's newly designed National Digital Property Addressing System, Ghana Post GPS.
The management of Ghana Post had announced that Ghana is to pay Google an amount of $400,000as a licensing fee annually, for making use of the tech giant's Google Maps platform.
But speaking on The Big Issue on Citi FM, the Deputy Communications Minister, George Andah , noted that "there are other solutions that are going to come down the line."
–
By: Jonas Nyabor/citifmonline.com/Ghana