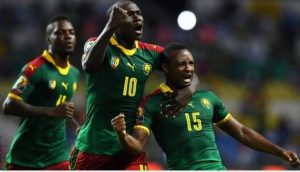 Legendary Cameroonian shot-stopper, Joseph Antoine Bell has indicated that the semi-final clash between Ghana and Cameroon on Thursday will be a physical battle.Speaking to Happy FM's Mac-Paradise Okocha in an exclusive interview from Gabon, the ex-Marseille, Toulon, Bordeaux and Saint-Etienne linchpin disclosed that the people of Cameroon are sympathetic towards this Indomitable Lions side because they see the team to be one which is being rebuilt.
He however argued that games between these two sides are so fierce with rivalry that no excuses would be taken because of someone's lack of proper foresight for a transition plan on the part of the Cameroonians.
"Cameroon have been rebuilding for the past eight years and I won't take that because we always find excuses when we fail so if you didn't change your players on time and you keep on reconstructing, it's no one's fault. When you had Samuel Eto, you knew he was going to leave so what plan did you put in place."
On the Black Stars, Bell cautioned the team to be ready for a physical battle though he believes they will have more of the ball than the Indomitable Lions.
"I know the Black Stars will have a lot of the ball but the game will be a very physical encounter with a lot of contacts so they have to be prepared for that. The Stars showed against DR Congo that they could also play without the ball because surprisingly against DR Congo, the Leopards had the ball more and they were able to keep up so I'm sure they will be able to contain the Cameroonians because they have the same physical presence like the Congolese." Antoinne Bell told Happy FM.
Ghana plays Cameroon in the semi-final of the 2017 Africa Cup of Nations on Thursday.