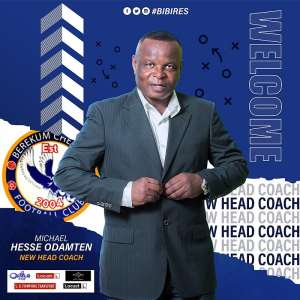 Berekum Chelsea has announced that they have appointed Michael Hesse Odamten as their new head coach ahead of the start of the 2020/2021 football season.
The Berekum-based club was coached by Asare Bediako during the 2019/2020 Ghana Premier League season but both parties have agreed to cancel that arrangement.
Following successful negotiations, officials of Berekum Chelsea have managed to convince Michael Hesse Odamten to come on board as the new head coach.
"Let's welcome our Head Coach MICHAEL HESSE ODAMTEN", a club statement has announced today.
Michael Hesse Odamten, a former Hearts of Oak player was earlier this year linked with a move to the Phobians as an assistant coach.
The CAF License A holder has however opted to take up the bigger role at Berekum Chelsea for the 2020/2021 football season.