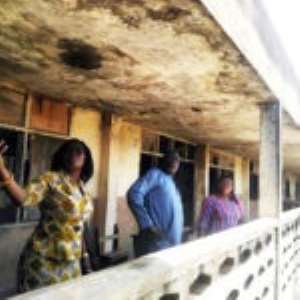 About 710 pupils of both the Primary and Junior High School of the Bolgatanga Preparatory Model School have been relocated to pave way for major renovation works to be carried out on the only storey building of the school.
Engineers of the Bolgatanga Municipality Assembly have declared the building unsafe for habitation.
Built many decades ago, the single storey structure has not seen any major renovation, and a visit to the school by The Chronicle on Monday September 17, 2018, revealed deep cracks all over the building, as rusted and exposed iron rods give in, and electrical fittings hang loosely.
Available statistics from the Pimary and JHS of the school revealed there were currently 280 pupils in the Primary School and 430 pupils in the JHS, who have been affected.
All the affected Primary School pupils, who, initially were located on the ground floor of the dilapidated building, have joined their colleagues in Block 'A', while the occupants of the upper floor, mainly JHS pupils, have also been moved to a nearby school.
Some pupils The Chronicle engaged during a visit to the school said before they were relocated, they lived in fear.
"The time we were in Preparatory JHS Model School; the time we were learning we can see the iron rods and we can see some of the structures breaking down, and our lives were at risk. But now that they have moved us to the other school, we are now safe and sound," a JHS 2 pupil recounted.
At the time of our visit, the Bolgatanga Municipal Chief Executive (MCE), Joseph Amiyuure, and the Municipal Director of Education, Anne Estella Kye-eebo, arrived to inspect the structure.
The MCE revealed that the engineers at the assembly had submitted the estimates of the renovation works to him, but they would have to conduct an assessment of the foundation of the structure to ascertain its capacity to hold the main building, before any work can be carried out.
"From the look of things, the engineers, after inspecting the whole structure, did not find it safe for habitation, and because of that, they [school management] were advised to relocate the pupils, which has been done already."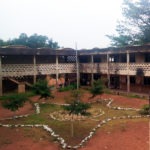 According to the MCE, the estimated cost for rehabilitating the building was GH¢158,000. When asked how the assembly intended to raise money for the project, Mr. Amiyuure said: "Fortunately, the assembly is one of the assemblies that has qualified for DDF – District Development Facility.
"We have qualified, and we have outstanding balances to be paid to us. Any time any of these monies hit our accounts, my priority is to use part of that fund to work on this school."