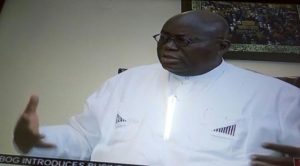 The NPP Presidential Candidate Akufo-Addo says the party's Northern Regional Chairman, Daniel Bugri Naabu has promised to return the alleged bribe items given him by President John Mahama and his brother.
Nana Addo Dankwa Akufo-Addo in a special interview with Joy News at his Nima residence Friday said Mr Naabu has explained he kept the 'goodies' for evidential purposes.
"He himself has decided what to do with it and if he has made the decision to return the money [and cars], I believe him," he said.
The NPP has alleged Mr Mahama and his brother Ibrahim Mahama attempted to bribe Mr Naabu to turn against the party's flagbearer ahead of the December 7 general elections.
NPP Northern Regional Chairman, Daniel Bugri Naabu
At a news conference held on November 29, Nana Akufo-Addo's Spokesperson, Moustapha Hamid said Mr Naabu was promised GH¢3.3 million, a brand new V6 Mitsubishi and a brand new V8 Landcruiser vehicles to deflect from the NPP.
In a demonstration of their commitment, Mr Hamid said the President and his brother gave the NPP Northern Regional Chairman the sum of GH¢500,000 and one of the promised vehicles to describe Nana Akufo-Addo as an ethnic bigot.
These claims have been dismissed by government as mere fabrications concocted to tarnish the hard earned reputation of the President.
The alleged Mitsubishi
Communications Minister, Dr Edward Omane Boamah told Kojo Yankson, host of Joy FM's Super Morning Show Friday that the evidence provided by the NPP is pathetic.
He said government is prepared to engage the NPP to get to the bottom of the allegation.
But Nana Akufo-Addo said the allegation might have some substance considering the treatment of the issue by government officials.
He said the alleged bribery of Mr Naabu by the President forms part of the narrative of the governing National Democratic Congress (NDC).
Nonetheless, Nana Akufo-Addo said the car and money would be returned to the President and his brother in the coming days.
"He [Mr Naabu] told me he would return the things and I am quite satisfied with it," he said.
Story by Ghana | Myjoyonline.com