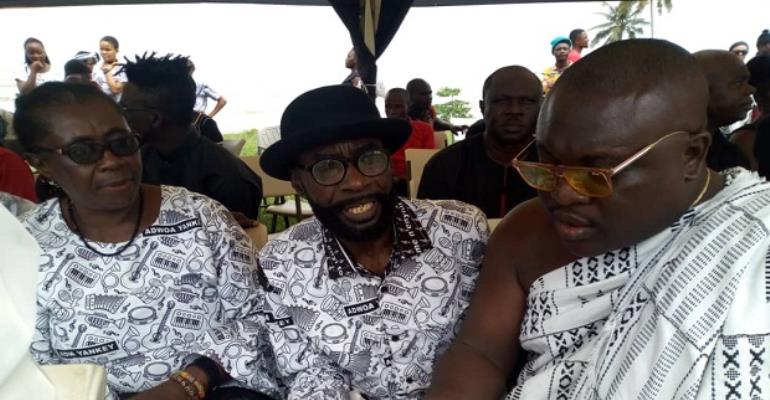 The mortal remains of the late highlife musician Charles Kofi Mann, known in the music industry as C.K Mann, was on Saturday, July 14 laid to rest at the Takoradi cemetery in the Western Region.
C.K Mann, 83, died on Tuesday, March 20 at the Ghana Ports & Harbours Hospital (GPHA) in Takoradi after battling a number of illnesses.
The body was on Friday laid in state at his residence at Anaji Estate, where a large number of musicians and stakeholders in the creative arts industry, as well as hundreds of fans filed past C.K Mann's body and paid their last respects.
The family then moved to the Jubilee Park for wake-keeping, where a number of musicians, including Gyedu Blay Ambolley, Pat Thomas, among others, entertained mourners with their various songs.
On Saturday morning, the mortal remains of the late musician was sent to the Christ The King Catholic Church for burial service before being taken to the Takoradi cemetery.
Among the mourners were the Minister of Tourism, Arts & Culture, Mrs Catherine Abelema Afeku; the Western Regional Minister, Dr Kweku Afriyie; the Member of Parliament for Takoradi, Kwabena Okyere Darko-Mensah; the Majority Leader and Minister for Parliamentary Affairs, Osei Kyei-Mensah Bonsu, Charles Bissue, a presidential staffer, among others
Some musicians who were at the event were Pat Thomas, Rex Omar, Kofi Kinaata, Gyedu Blay Ambolley, Bessa Simons, Nero X, Pastor Joe Bechaam, Ernestina Koney, Daddy Bosco and many more.
The solemn ceremony, indeed, brought together the old and young together, whose lives the high-life veteran has affected with his music. Performances were seen from his colleagues at the funeral.
A number of politicians, traditional leaders and the clergy also graced the occasion.
C.K Mann came to the prominence in the late 60s with songs like 'Edina Benya' after cutting his musical teeth with Kakaiku Internationals before joining the Ocean Strings and eventually establishing the Carousel 7 Band, which featured Paapa Yankson, Bessa Simons, among others.
He is widely credited with popularising the coastal music of fishermen dubbed 'Osode' by infusing western musical instruments into it.
Some of his hit tunes are 'Okwan Tsintsin Awar', 'Kolomashi', 'Yebeyi Wo Aye', among many others.
In 2006, President J.A Kufuor awarded C.K. Mann the Grand Medal for his meritorious contribution to the music industry in Ghana. The final funeral rites will be announced shortly.