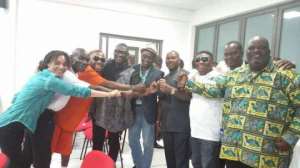 Mr Ivan Bruce Cudjoe, Chief Executive Officer of Cabic Promotions & Management has said, his outfit is seeking for support to establish a modern boxing academy in the country.
He said the academy would give young boxers the opportunity to learn the rudiments of the sport at a tender age and develop then to become world beaters.
He has therefore appealed to corporate Ghana and international organisations interested in sports and entertainment to support them in their vision to raise boxing to a higher level.
Speaking to the media at the launch of their second bill with three World Boxing Organisation (WBO) Africa title belts at stake, said they want to change lives and raise the image of Ghana as a great sports nation with sports talents.
According to Mr Bruce Cudjoe, they want to manage about 10 boxers and groom them to become world champions.
He said Ghana currently has only one world champion but could have been many with proper management and support for boxers.
He said Cabic was very passionate about developing great talents, adding that investors would never waste their investments.
Mr Bruce Cudjoe said the community boxing has a great future, hence the need to develop it.
Ghana's Patrick Allotey would defend his WBO Africa Super Welterweight title against tough Ugandan opponent, Badru Lusambya on the Cabic second international bill on August 11, 2018, at the Bukom Boxing Arena.
Emmanuel Martey would square up with Sunday Ajuwa of Kenya for the WBO Africa Super Middleweight title and Richard Nii Lartey Harrison would also face Nigerian Okolla Morris for the WBO Africa Interim Heavyweight title.