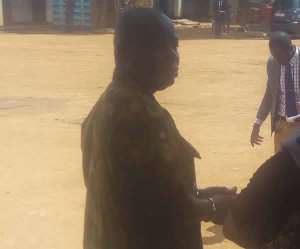 An Accra Magistrate court has arraigned a soldier after slapping a police officer who tried to arrest him for shielding sand weaners in Central region's Kasoa.
Chief Inspector Samuel Donyoh was left with a bloody left eye after the accused, a Staff Sergeant Seth Alloyritoh, landed a blow on his face last Wednesday.
The May 9 incident happened around Appolonia City in Kasoa after the police on a tip off stormed the area noted for new construction works and land litigations.
The activities of unregulated sand weaning is threatening the physical integrity of building around the Kasoa area. Engineers have warned a landslide is possible if the practice is not checked.
The Chief Inspector who is stationed at the National Highway Patrol Unit of the police service led seven of his men to the scene of sand weaning but was confronted by the military officer in full uniform.
He tried taking pictures of the police officer, the prosecution told the court, but was left furious after the police officer denied him. The infuriated solider assaulted the officer and bolted.
But he was later arrested and charged with assault. Less than 24 hours since the Wednesday 4:30pm attack, the accused was before the Magistrate court in Accra.
He has been granted bail after conditions were set at 7,000 cedis plus two gainfully employed sureties.
The case has been adjourned to May 24, 2018.
There has been concerns expressed by the police about the increasing rate of attacks on their men by military officers.
The Chief of Defence Staff Rear Admiral Beick Baffour issued guidelines last month to fooster harmony between the two security services.
Story by Ghana | myjoyonline.com