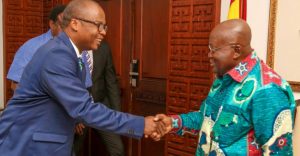 The Governor of the Central Bank Dr. Ernest Addison has dismissed claims that other banks in the country are suffering liquidity problems and may soon collapse.
Deputy finance minister Kwaku Kwarten has claimed that some more banks are suffering financial challenges and may go down if drastic measures are not taken by their management.
It comes on the back of the takeover of UT and Capital banks by the GCB bank after the two banks suffered " severe impairment to their capital".
Addressing a news conference in Accra Monday, Dr. Addison said the rest of the banks in Ghana are solid with their capital investment.
"We only have two insolvent banks in Ghana which is UT and Capital banks. So this talk about 'they are not the only banks' is really unfounded. These are the only insolvent banks that we have in the system and those are the ones that we have resolved," he stated.
He also added that appropriate sanctions will be taken against shareholders and management of the now collapsed banks.
"The last phase of the BoG's action would involve a thorough investigation of operations of UT Bank and Capital Bank and appropriate action will be taken against shareholders, Directors, and key management personnel who are found to be culpable," he said.