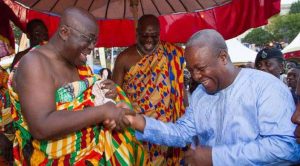 The 2016 presidential candidate of the New Patriotic Party Nana Akufo-Addo has called on President John Mahama to concede defeat to defuse the tension building up in Ghana.
Addressing a section of journalists at his residence in Nima, Nana Addo, who is leading in constituency results gathered so far, said he believes Mahama will do the right thing.
"I know him and he is an honourable person and capable of rising to the occasion. I believe he is a Ghanaian patriot and I believe he is the sort of person who will do the right when he sees he has lost, he will do the right thing," Akufo-Addo said.
He added: "We are in a very tricky moment and it's important all of us behave and the responsibility on him is a big one, but I believe that he is capable of meeting this responsibility and working to bring our country together and ensuring the peace of our nation."
The President earlier today told some party faithful and Ghanaians he will accept the outcome of the December 7 polls whether negative or positive.
"We'll respect outcome of the election positive or negative. Let's be law abiding. Don't let your spirit be down," Mahama told the supporters.
"We are a great party and let's wait for the EC to give us the figures and we'll do the comparison and collation and we'll let the nation know."
-Starrfmonline