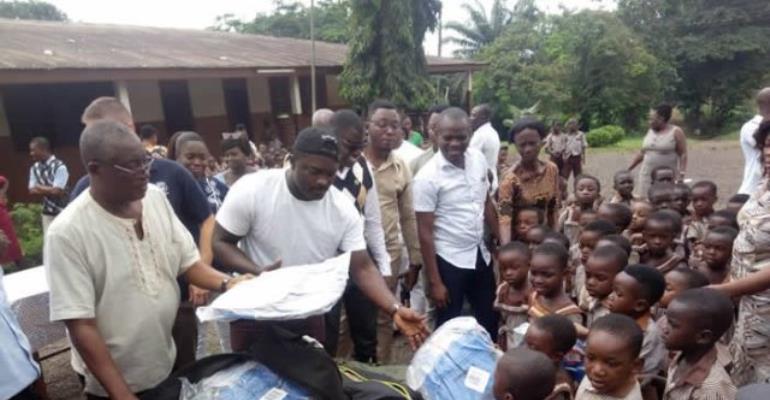 A Ghanaian born United States military officer with the North Dakota National Guard's 188th Engineer Company has donated a set of educational materials to the Dadwen Schools Complex, at Nsuta Wassa, in the Tarkwa Nsuaem Municipality of the Western Region.
Dennis Duku has donated assorted items which include over 400 school bags, crayons among others to children in the kindergarten unit, in support of the physical and academic development of the school.
Accompanied by some other military colleagues from the US Army, Dennis Duku, said it has been a lifelong desire to support the development of local education, especially his alma mater.
Dennis Duku is in the country, together with about 800 other colleagues, for a training mission.
He also gave 100 bags of cement to assist in the construction of decent washroom facility for both teachers and students of the school.
He also promised to assist the school to set up a functional ICT facility to enable the students to have a practical ICT education in preparation of their examination and personal development.
He was optimistic that more such support will also be given to the other schools within the Municipality in the near future.
At the presentation of the items, the Municipal Chief Executive of Tarkwa Nsuaem Municipal Assembly, Mr. Gilbert Asiamah, urged the old student groups of the school to emulate the example of Dennis Duku.
He said as part of efforts to promote the development of education, the Municipal Assembly will assist the management of the school to ensure that Dadwen Schools Complex recaptures its past position as the leading school in the region.
Receiving the items, the headmaster of the School, Mr. Isaiah Genni, expressed gratitude for the gesture.
However, he also used the opportunity to remind the old students of the vital role they have to play in the development of their alma mater.
He further appealed to the old students to support in diverse ways to address some logistical constraints and other physical infrastructure challenges faced by the School.
In a related development, the soldiers from the U.S 353rd Civil Affairs Command, North Dakota National Guard's 188th Engineer Company, 231st Brigade Support Battalion, 141st Maneuver Enhancement Brigade, Ghana Armed Forces and the Royal Netherlands Army built and donated desks to L&A Memorial Academy, at Malam Gbawe.
The donation is said to be part of the United Accord 2018 activities taking place, in the country