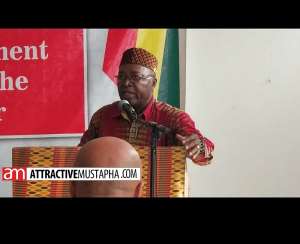 Ghanaian veteran actor, David Dontoh has lashed out at the National Communications Authority for destroying the film industry's monitoring machine which is supposed to help in monitoring contents on all the television stations across the country.
Speaking at the recent Ministry of Tourism, Arts and Culture's engagement with practitioners in the creative arts industry, captured by Attractivemustapha.com , the veteran actor said that the campaign by industry people that television stations must show 70% Ghanaian content and 30% foreign content is a good thing but measuring and monitoring to ensure the implementation of that policy is difficult because the National Communications Authority has destroyed the device that is technically used to do that job.
'National Communications Authority was given a machine by Sweden that will monitor and log programs that will be shown on television but it has been destroyed, they have spoilt it" he lamented.
According to Mr David Dontoh, If people in the industry are able to insist and have the machine replaced by the NCA, the industry can monitor all television stations in Ghana and what materials and contents they show.
He also advised that if the industry gets that machine back, television stations which do not abide by the rules should be blocked or shutdown.
"Until we do all these it will be very difficult for the industry to convince anyone that we can really push the industry to the peak we want ", he added.
He ended by saying film is a pot of soup, every arts form goes into film.
Attractivemustapha.com