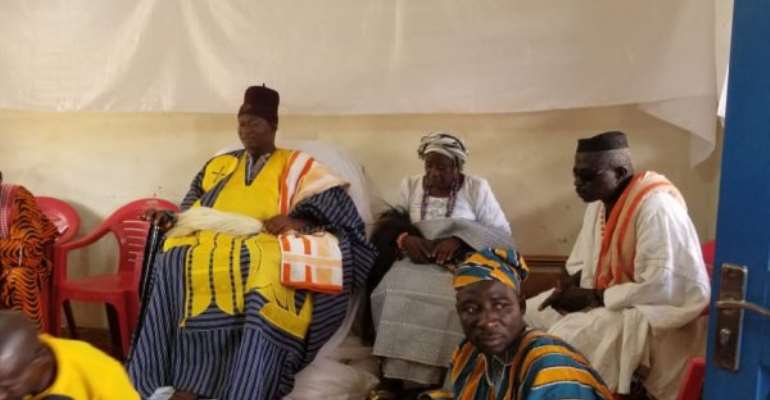 Obore Nambu Jakobki IV, chief of Kuyuli a suburb of Tatale has called on the youth to bury their political differences and forge ahead for the development of the area.
"Your enthusiasm and loud responses showcase the awesomeness of this festivity and let's keep the pace for peace and unity not to be deceived by politicians to kill ourselves for their personal gains ".
The chief made the call during the 2020 Yam festival of the chief and people of Kuyoli in Tatale in the Tatale-Sanguli District of the Northern Region.
The celebration was preceded by a week-long activities including; clean-up exercise, tour to the origins of their ancestors, discovered tourist sites, free medical screening and free mediciation, and also educated the farmers to boost their strength in new and better methods of farming under the planting for food and job programme.
He urged farmers to be the Chief Executive Officers (CEOs) of their farms and enjoy the benefits of farming hinting that he might quit teaching to fully participate in farming.
He gave the assurance that the festival would be celebrated annually to broaden the knowledge of farmers.
Mr Ahmed Iddi Adaakwa, the special Guest of honour who represented the Deputy Regional Minister, said Bassares were peace makers and urged them to continue to live peacefully before, during and after the election regardless of their political affiliations as the constitution allowed every Ghanaian freedom of association.
He pleaded with the chief to extend the celebration of the festival throughout the country to promote the culture and traditions of his area.
Chief Inspector Maurice Abby of the Tatale Police Station warned the youth to be law-abiding.
"I was upset when the youth nearly lynched a suspected robber in the district and as police officers, our core mandate is to protect lives and property".
He tasked them to be ambassadors of peace to support police to maintain peace and order in the district.
—GNA