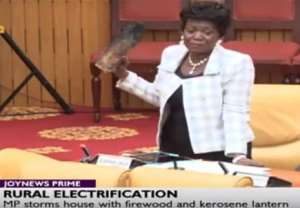 The failure on the part of the Akufo-Addo government to link the Kpando constituency to the national grid has angered the opposition Member of Parliament (MP) for the area Dela Sowah.
The worried MP didn't spare the august house of Parliament the drama to demonstrate his distress.
Hon. Dela Sowah carried a firewood to parliament to dramatize the failure of government to give her people electricity.
Dela Sowah who is also a Deputy Ranking on Energy Committee also brought a kerosene lantern which rural communities use as light.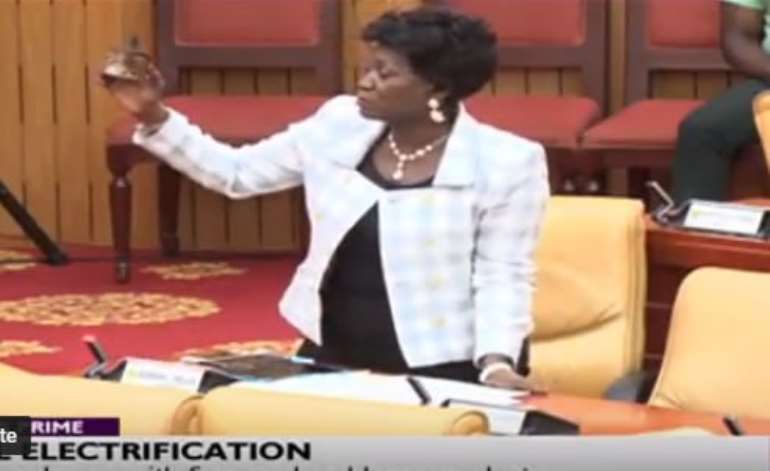 Under the Akufo-Addo government, rural electrification has stalled, she said with coverage increasing by 1% in nearly two years.
The NDC MP said government in 2017 promised to extend electricity to over 2,000 communities nationwide.
The government managed "an embarrassing" 289 communities reaching only 14.4% of its target communities.
She picked 2018 projections of providing nearly 1,800 communities with power but only 122 communities got to see electric power for the first time in their communities.
The government, she said, has developed a trend of failing to meet its own electrification targets.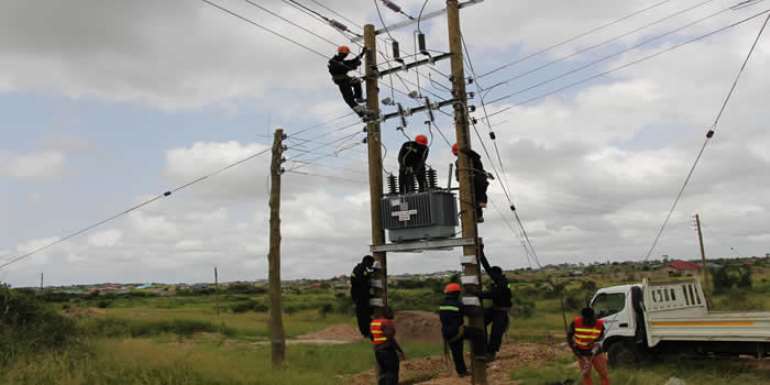 The toll of this failure continues to fall on women in her constituency, she complained. The Kpando MP said the women have to walk miles to far-off communities just to mill their corn – a staple that has several culinary uses.
Tuo Zaafi is one popular meal in her community, she indicated but the stress in preparing the food due to lack of electricity is becoming unbearable, the NDC MP noted.
"All they are asking is to be connected to the electrical grid….they are not asking for much", the MP said.
Dela Sowah observed that the former NDC administration under President John Mahama demonstrated greater commitment towards rural electrification.
She claimed the Mahama government increased access to electricity in rural areas from 54% to 83% before it lost power in December 2016.
—MyJoyOnline