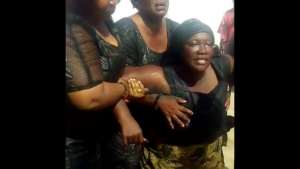 The mother of Ebony Reigns, Madam Beatrice Oppong, has disclosed her daughter's last words to her just two hours before he deadly accident.
According to the grieving mother, on the fateful day, her daughter had visited her in Sunyani and playfully kissed her and said "Mama I will miss you".
The mother explained that she only understood her daughter to be saying she would miss her when she returns to Accra.
Therefore, she never thought it was the last time she was ever going to see her; and this had completely shattered her.
According to Madam Beatrice Oppong, she received the devastating news of her daughter passing on barely two hours after living her house in Brong Ahafo.
Speaking at the one week celebration, monitored by Modern Ghana Entertainment, Ebony's mother who was captured visibly shaking said she has lost everything she had toiled for over the many years
"I'm short of words, I can't find my voice. It is not easy to lose your daughter, a young daughter for that matter just two hours after spending time with her."
"She said Mama I will miss you, bye bye and left the house. I had no idea she was going to die," Ebony's mother wept.
The sad mother added that she is looking up to God for comfort and support in this time of severe difficulty.
Meanwhile, Ebony's final funeral rite has been slated for March 17, 2018.