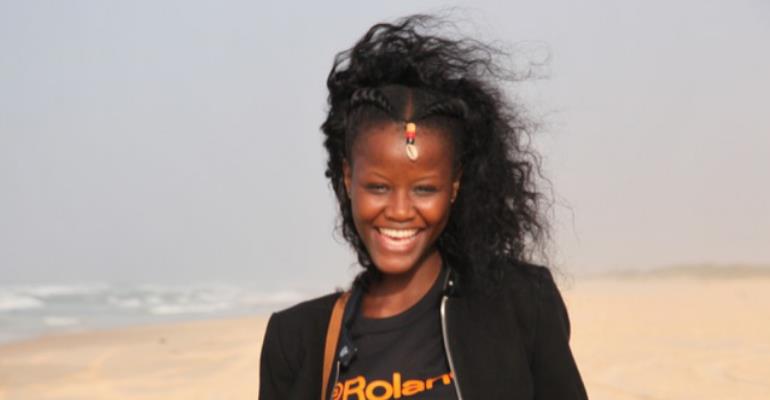 Fakeba the queen of Africa, is a Senegal Dance/electronic singer, songwriter and an ambassador of the famous ROLAND brand for the African continent. She gained prominence after the launch of her first work in avril, (MADE IN AFRICA) "is a very emotional album, very meaningful, it's like a ship of feelings from my land to the world", She added.
In 2017, she signed onto the music label, (Iberlive) where a compilation album was released. Her debut studio album 'Musique' full of singles focused towards the most rotund dance music. It was supported by the singles "Psytrance", "Deep House", "Senegal", "Acid", "Mou5", "Fakeba" and "Musique". A beautiful Electro pop song with Dubstep rhythms, which gives the real title to the full "Musique" EP.
Fakeba has been featured on the covers of several magazines and performed around the world, sharing stages and songs with some international artistes. Her latest smash hit featuring international arts 'BNN' as it dominated music charts in USA, and it was released towards the end of the year with a music video shot in Accra Ghana.
On the other hand, a single titled 'Senegal' is more like a hymn, a prayer, is a way of paying homage to my land, to my people, to my continent -The song 'Senegal' is a song to life and hope from my promised land, my Senegal".
She comes by the effort of Big Toxic, the most respected french producer of Electronic Music settled in Spain, with the brilliant and current production of a magnificent EP album of Electro Music, Synth Pop and Dub Step.
Moreover, to strengthen the way to understand this artistic project, the first releases and songs are already published in digital and vinyl formats as preview of the album, which are being offered with remixes of other brilliant artists, producers and DJ's like Julio Posadas, The Dirty Playerz, Fernando Garrido, J Rob & D. Pasajero, Darren Roach and Mesopotamia, Mist3rfly or Angel Altieri, contributing together to show this magical mix, between Fakeba's voice and these magnificent compositions and the most current electronic music.
Fakeba is bringing to the world not only her voice and radiant energy, but a coherent and authentic fusion between music styles and continents. The dubbed album 'MADE IN AFRICA' a fantastic electronic music with waves of electronic rhythms and melodies of the first world, this unique and amazing Artist, will reaches the first phase of world conquest.
Fakeba, an intense voice with precious textures, that emerges from the heart of Africa and that will flying out around the planet with the power of Electronic Music, however, Fakeba sings in her language, the Wolof, language of Senegal bathed in sea, jungles and deserts. Her voice distills a spirituality and an overwhelming force, it is pure Africa.
She disclose, "2018 is going to be a very important year in my project. I can tell you that I work on the release of four albums of different production and all within an absolutely electronic context, With different producers and different points of the world".
There will be a disc of collaborations with well-known artists and electronic music bands and productions with John Fryer (Depeche Mode, Nine Inch Nails, Love And Rockets), with The Dirty Playerz there will be an album aimed at an especially young audience on the dance floors and of course the new album with Big Toxic.
Likewise, "we will celebrate the third edition of Eléctrica Festival in Dakar, with the assistance of artists and international electronic music bands. I will also tour with a series of concerts in Europe. And of course there are more things on the way that I hope and wish you enjoy with us".
Fakeba is a journey of initiation towards an alternative future within the Electronic Music, an exclamation of freedom in the forms and the sound, between so much prefabricated music, without soul and so linear of today. Fakeba is a Queen. Fakeba is Senegal in the 21st Century who is set to hit Ghana with her Dance/Electronic Music Genre.