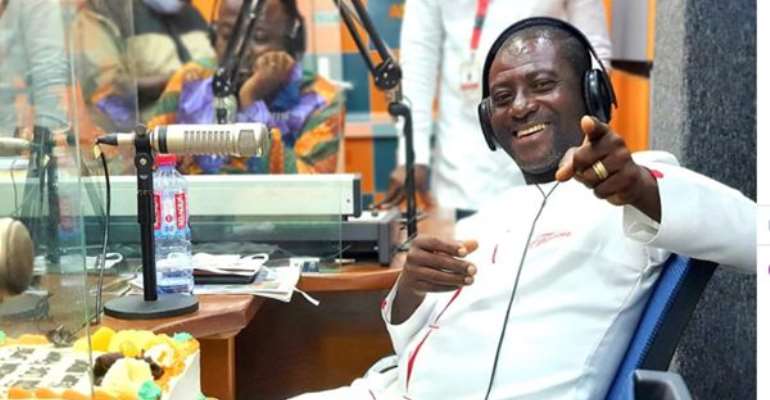 Dear Captain Smart,
Thank you very much for the impact you have made in my life since the day I started listening to you. I've been one of your ardent followers since your days at Fox FM in Kumasi. I was in SHS then, which hindered me from being the regular listener I wished to be.
God being so good, I got admitted into the University of Ghana, Legon in 2013. This got me excited because it was a great opportunity for me to be *The Regular* follower and listener of your programmes on Adom FM.
I couldn't go a day without listening to you especially the motivational messages you shared with your listeners every morning.
Subsequently, my roommates thought I was glued to your programmes because you were from Kumasi.
However, I told them that wasn't the case. I tried convincing them about the kind of person you are and what you stand for which makes me attracted to you always.
I managed to drag them along which eventually gingered them to start listening to you and at a point they became my alarm clock by always reminding me that *My Man* has come.
Your zeal and passion for what you do make me like you more.
You are bold, candid, nonconformist, ardent Christian, very respectful, especially to your listeners.
You have taught me one thing I will never forget after my years of listening to you. You are always firm and stand by your position even if you are in the minority. This is a mark of a true leader.
Your opinion on national issues is solid. Those who don't know you and don't really follow you see you as arrogant and pompous, but for some of us whom have not gotten the opportunity to meet you in person but have followed you and realised that you are truly a great man with balls.
You are unperturbed and don't succumb to the public backlash and verbal abuses meted out to you.
Not forgetting the unpleasant jibes rained on you by party apparatchiks and autopilot footsoldiers. You remain focused and give your utmost best to serve mother Ghana.
Indeed, you are an epitome of real journalism.
I remember four (4) years ago, you were in the studio with Ohemaa Sakyiwaa.
Few weeks to your fifth (5th) anniversary with Adom FM. You professed boldly on-air that nobody can unseat you from the *Edwaso Ns3m* show. You further claimed that nobody has hosted the morning show for more than five (5) years. Captain, you are a gem.
Your seven-(7)-year journey with Multimedia has really been a blessing.
Those who wished to be on your throne but couldn't get to your level criticized you for nothing. You didn't succumb to comments people passed about you. Anytime I hear rumours about you quitting Adom FM, I quickly get in touch with a friend who is affiliated to Multimedia, and he tells me to disregard it.
In the middle of this month, when I started hearing the rumours about you quitting Adom FM, I quickly got in touch with this friend once again. He didn't really give a positive answer, only to tell me that it is complicated. He knew my obvious reaction if he openly confirmed to me.
I have been sleeping on You and Godwin's Facebook wall day in day out, but there was no update on your resignation there. I woke up this morning to hear that Multimedia will be bidding you a farewell. I couldn't control my tears.
However, everything that has a beginning has an end. You have served your nation well and paid your dues.
May the good Lord see you through in all your endeavours.
I remain an ardent fan of you forever.