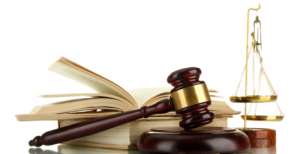 A District Magistrate Court in Enchi has remanded into police custody, a 34 year-old farmer for allegedly threatening to kill his ex-lover on four separate occasions.
Kwaw Kwadu pleaded not guilty to causing unlawful damage and threat of death.
Detective Sergeant, Joseph Kwadwo Agyare, told the Court, presided over by Mr Eric Baah Boateng that the complainant, in the case Regina Abeka is a farmer and ex-lover of the accused.
He said a month ago, the accused who resided in the same house with the complainant at Kwahu, near Enchi, proposed love to her and she accepted but that a week later, the complainant's mother saw the two and advised her daughter to quit as they were relatives.
The prosecutor said Regina broke the news to the accused, who became offended and threatened severally to kill the complainant if she ended the relationship.
He said Kwadu seized the complainant's belongings a couple of times and helpful witnesses intervened and he released the items to her.
Detective Sgt Agyare said, the persistent threats from Kwadu compelled the complainant to seek refuge in a farm cottage.
On July 18, 2018, the prosecution said the complainant's brother Kweku Abeka and a witness in the case, who had gone to the farm cottage on return to Kwahu heard of the challenges his sister was encountering, sent for her to live with him so that he could take care of her two kids.
On Monday, July 23, this year, at about 1930 hours the accused visited the complainant and pleaded with her to spend the night with him, of which she responded in the affirmative due to fears.
The prosecution said the next day at about 3:30 am, while the complainant was asleep with the brother and her two kids, they saw smoke coming into their room.
He said they forced the door opened and realised that someone had set the door ablaze; they managed to quench the fire and returned to bed.
At about 4:30 am the same day, a local information center at Kwahu announced that a house was gutted with fire and therefore needed assistance from individuals within the community.
The complainant on hearing the news quickly woke his brother up and both rushed to her house, to their surprise met people trying to extinguish the fire to safeguard the belongings of Regina all to no avail.
The complainant, who suspected the accused, reported the incident to the Omanpe police and he was subsequently apprehended to assist investigations.