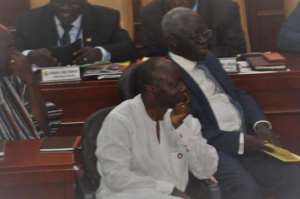 Mr Daniel Okyem Aboagye, Member of Parliament (MP) for Bantama says the Minority in Parliament were dazed by Mr Ken Ofori-Atta, Minister of Finance since their claim of a possible VAT increase were exposed.
According to him, the Minority's assertion of a possible increase of VAT from 17.5 to 21.5 percent were exposed and as such could not even raise their placards which they had brought to protest.
Mr Aboagye made the statement after the Minister of Finance had presented the mid-year budget review statement before parliament in Accra.
Before the mid-year budget review there were widespread discussion by political parties, businesses and civil society organisations of a possible increase of VAT from 17.5 percent to 21.5 percent because of a certain post in the social media.
The Minority in Parliament at a News conference earlier in the week also warned the government against imposing new taxes and vowing to fight any such tax increase.
Mr Aboagye also stated that the NPP should rather be praised for taking the country out of the mess that the NDC left in terms of the debt level and deficit.
He said currently the government was doing everything possible to sustain the gains made and not repeat the mistakes of the past.
He said a number projects started by the NDC including; the Kumasi market, Tamale airport, school projects they did not have the budget for it and as such the NPP government was raising money to complete those projects.
Mr Isaac Adongo, MP for Bolga Central in his reaction to the mid-year budget review accused the government of secretly increasing the Value Added Tax (VAT) by five percent.
He said the public needs to understand the mechanics of VAT to appreciate that there's a de-facto increase of the VAT by five percent.
'Unless you don't understand the dynamics, we got it perfectly right. The government did it worst today' he added.