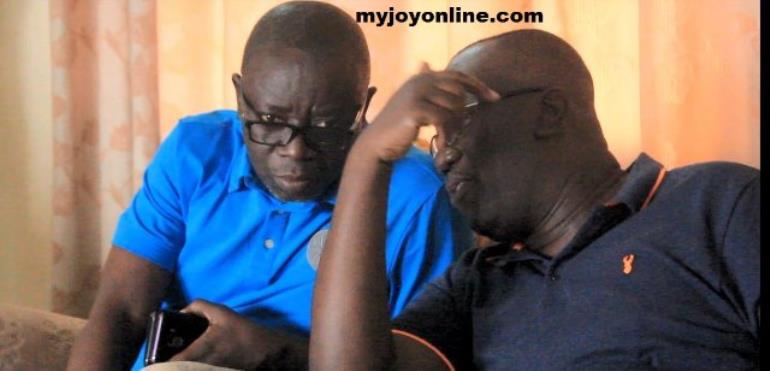 Forestry officials are suspected to be conniving with illegal loggers and other encroachers to destroy forest reserves in the Western Region.
Lands and Natural Resources Minister, Kwaku Asomah-Cheremeh, wants investigations into the conduct of such personnel that he says have questionable character.
He was on an inspection visit to see over 200 pieces of wood beams and doors seized by a joint military-forestry commission taskforce at Sefwi Boako and Juaboso.
"I am surprised that it always happens this way and you see some members of the Forestry Commission coming up to conduct themselves as if they were not aware. I am fortified with a lot of dossier concerning what I am speaking to now."
When asked if he suspects some officials are conniving with the loggers, he responded in affirmative.
"I suspect so because ordinary, how do you expect that you are a T.O [Technical Officer], you are a TA assigned to particular forest and you wouldn't know that some equipments had been taken to the forest? Wood misers they are producing doors over there; cutting the trees into billets; sawing them into raw timber; trucks moving into the forest; tractors moving into the forest and you wouldn't know for days, months, then it means you are not discharging your responsibility as required."
Huge quantities of commercially -valued tree species such as Mansonia, Mahogany, Asamfra and Odum are targeted by the illegal operators.
The African teak and other extinct species have not been spared in the Sui, Krokosua, Tano Suhyen, Murro and other reserves.
The joint military-forestry taskforce is on a mission code named "Operation Halt" to clamp down on chainsaw operators and sawmillers in and on the fringes of reserves.
Mr. Asomah-Cheremeh says forestry officials in affected reserves in the Western region would be investigated.
"This is dereliction of duty. and that calls for total investigations into this matter. The matter would be investigated. It would be investigated jointly with authorities of the Forestry Commission and with the ministry. We would set up a committee to investigate this so all those officers who were in charge of the affected in these forests where this lumber came from would be investigated. Those who would be found culpable, the laws will deal with them."
Chief Executive of Forestry Commission, Kwadwo Owusu Afriyie, acknowledges that armed attacks by encroachers on forestry personnel makes some of them powerless.
"I also sympathise with my own men. Sometimes they are not properly and effectively resourced and armed to undertake the exercises that we are asking them to undertake. These guys who are stealing the logs and others are armed to the teeth. From time to time, I have reports that some of my men have been beaten to pulp, some have been shot; some have received machete wounds all because they are doing their job."
However, he welcomes the Minister's call for investigations to expose the perpetrators.
"There appears to be a system failure and as a result of that, people take their eyes off and then let these things happen."