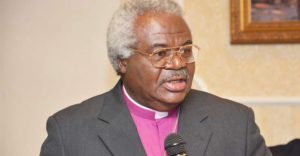 The former Moderator of the Presbyterian Church of Ghana Rev. Prof. Emmanuel Martey has waded into the fight against galamsey in the country, describing the Chinese as economic guerrillas.
He said he finds it strange that various leaders of the country have not yet realised that the nation is at war with illegal miners.
The comments by the outspoken cleric comes in the wake of the sustained media campaign against illegal mining, popularly known as galamsey.
Illegal mining in Ghana spearheaded by the Chinese has destroyed a substantial amount of Ghana's forest reserve and water bodies. The government is on a drive to rid the country of the activities of these foreign nationals who work in collusion with locals.
Addressing a gathering at the Christ Apostolic University College in Kumasi, Rev. Martey said illegal mining has the potential to wreck the nation if nothing is done about it immediately.
"With the present galamsey operations in this country, Ghana is at war. And it is amazing that our political leaders, for a long time, have not realized that Ghana is at war.
"I don't know what war is; if foreign economic guerrillas; that is what I call the Chinese. They are economic guerrillas, with their local missionary collaborators will attack and destroy your environment, pollute your source of drinking water and kill your citizens and you just sit down and do nothing, then what name should be given to you as a country," he wondered.
Reverend Martey was known for his often harsh criticism of the erstwhile Mahama administration.
He is on record to have wondered the whereabouts of wise men in the country during the tenure of the NDC administration.