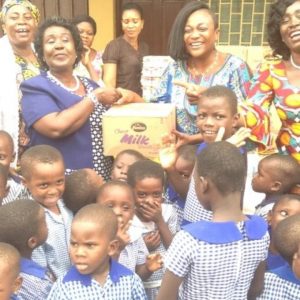 By Caroline Pomeyie, GNA
Accra, Jan. 24, GNA – Ms Otiko Afisa Djaba, Minister-Designate for Gender, Children and Social Protection on Monday marked her 55th birthday anniversary with the donation of toiletries and foodstuff to the Osu Children's Home in Accra.
Ms Afisa Djaba said: 'I turned 55 on January 21, and decided to mark the milestone and God's goodness over the period with the children at the Osu Children's Home, which falls under the Gender Ministry President Nana Addo Dankwa Akufo-Addo has nominated me for.
'I am in politics to serve and also help children. For Ghana to develop, the most vulnerable people must be included in the social economic policies of the Government especially children.
'And I have been given the opportunity to develop programmes and policies that will ensure the full potential of every Ghanaian child,' she said.
Ms Afisa Djaba assured the orphanage of her support when she assumes office stressing: 'You have my support and the support of President Akufo-Addo.
'The President believes in inclusion and children with special needs were captured in the New Patriotic Party Election 2016 manifesto. You are assured that we will work with you to help the children develop.'
She noted that the Livelihood Empowerment Against Poverty (LEAP), Social Welfare, and other social intervention programmes under the Ministry of Gender Children and Social Protection will be supported.
She inquired from Mrs Christiana Addo, the Manageress of the Osu Children's Home, challenges the orphanage is facing and how it manages its affairs.
Mrs Addo stated that there are 149 children, comprising 101 males and 46 females, in the orphanage and staffing had been a major challenge including paying utility bills and medical bills.
She added: 'There are about 48 children with special needs but the orphanage only has a physiotherapist who comes to help but not specially trained teachers.'
She expressed gratitude to the Gender Minister Designated for her kind gesture towards the orphanage.
The Gender Minister designated was accompanied by Mr Kwesi Armo-Himbson, Chief Director of the Ministry; Ms Gifty Twum-Ampofo, a Member of Parliament for Abuakwa North and officials from the Ministry.
GNA