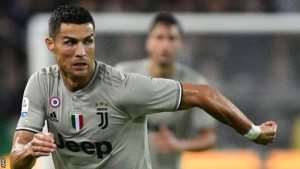 The German magazine that reported a rape allegation made against footballer Cristiano Ronaldo says it has "no reason" to doubt the authenticity of key documents used in its story.
Ronaldo, 33, denies assaulting Kathryn Mayorga at a Las Vegas hotel in 2009.
Lawyers representing the Juventus player said on Wednesday that documents had been "completely fabricated".
But Der Spiegel said: "We have hundreds of documents from different sources that substantiate our reporting."
It added in a statement: "We stand by our reporting. We have no reason to believe that those documents are not authentic.
"Furthermore, as always and before publishing every single article in Der Spiegel, we have meticulously fact-checked our information and had it legally reviewed.
"The statement that was issued by [Ronaldo's lawyer] Peter Christiansen on behalf of Cristiano Ronaldo presents the usual path that Mr Ronaldo and his lawyers have taken in the past when unsuccessfully fighting our investigative work."
The magazine's story centres on a questionnaire, which it says came from Ronaldo's lawyers, in which the Portugal international admits Mayorga, 34, said "no" and "stop" during the alleged attack.
In a statement released on Wednesday, Christiansen said the documents were "pure inventions" and the result of a 2015 cyber attack, during which "electronic data was stolen" from "dozens of entities (including law firms) in different parts of Europe".
He added: "This hacker tried to sell such information, and a media outlet irresponsibly ended up publishing some of the stolen documents, significant parts of which were altered and/or completely fabricated."
Der Spiegel responded by saying: "In our article, we quote two versions of a document with statements by Mr Ronaldo.
"It's a questionnaire that comes from his lawyers and describes the course of the night, in which the alleged rape occurred. The first version of this questionnaire, in which Ronaldo is quoted as saying that Ms Mayorga said 'no' and 'stop', is consistent with many details of Ms Mayorga's description of the incident.
"Both also state that he apologised to her afterwards. In a later version of this questionnaire, Mr Ronaldo denies the accusation of rape and denies apologising to Ms Mayorga."
Christiansen said his client's position continues to be that "what happened in 2009 in Las Vegas was completely consensual".
He added: "So that there are no doubts: Cristiano Ronaldo vehemently denies all the accusations in this civil action, in consistency with what he has done in the last nine years."
Ronaldo scored for Juventus last Saturday, but has chosen not to join up with Portugal team for matches against Poland on Thursday and Scotland on Sunday
'Admittance of payment'
Der Spiegel also believes Ronaldo's representatives have changed their narrative regarding the alleged payment that was made to Mayorga by Ronaldo's lawyers in 2010.
Mayorga, who the magazine says filed a report with Las Vegas police shortly after the alleged incident, reportedly reached an out-of-court settlement with Ronaldo involving a $375,000 (£288,000) payment for agreeing never to go public with the allegations.
Christiansen says Ronaldo does not deny he entered into an agreement, but "the reasons that led him to do so are at least to be distorted". He added: "This agreement is by no means a confession of guilt."
Der Spiegel said: "When we published an article about the settlement agreement between Ms Mayorga and Mr Ronaldo in 2017, his advisors called it 'nothing but a piece of journalistic fiction'.
"Now, Mr Ronaldo admits that he agreed to that settlement."
The magazine's statement added: "Before publishing our story about the rape accusations, we gave Mr Ronaldo and his lawyers the opportunity to respond to the allegations.
"They could have disputed the facts that we presented to them. They did not do that. In no way did they claim that parts of our information were 'pure inventions'. One of his lawyers threatened to sue us for publishing because he said that we infringed Mr Ronaldo's personal rights. So far, we have not received anything in this regard.
"Only Kathryn Mayorga and Cristiano Ronaldo know the truth about the incident that occurred on June 13, 2009.
"It's not our job to judge. What we do is to report. We tell both sides of the story.
"The responsible authorities of Nevada will determine the following steps in this process. So far, of course, the presumption of innocence applies to Mr Ronaldo."