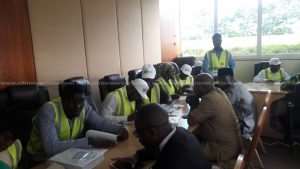 National Identification Authority (NIA), says it has registered and issued over 124,000 persons national identification cards also known as Ghana cards within the Adentan Municipality in Accra.
According to the Head of Corporate Affairs at NIA, Francis Palmdeti, the figure exceeded their target of 78,000 at the close of the registration exercise in the area on Wednesday.
"We as at close of work on Wednesda, we had registered 124,162 people in Adentan. We just observed from the data we have received that we have exceeded our target. We were considering the census figures of 2010 with some plus or minuses and so we felt that considering the size of Adentan and having a lot of working people in that area we may not hit our target. We put it at 78,000 but what we have now is way above our target," he added in an interview on the Citi Breakfast Show on Thursday.
The figure shows a sharp increase of the 2010 Population Census which pegged the population of Adentan at 78,215.
As to what may have caused the upsurge in the population of Adentan, Palmdeti said it may be as a result of the fast developing areas within the municipality.
"We noticed that in Adentan there are some new areas developing very fast. For instance Kooseh is a fast developing area; Nmai Dzorn is also one of the fast developing areas," he added.
Registration and instant issuance of the National Identification cards began in Adentan on November 5, 2018 amidst technical challenges as well as issues with digital address codes which is a prerequisite for the registration.
Most applicants ought to have generated their digital addressing codes prior to registration, but visited the registration centres without such codes.
The NIA however extended the registration exercise by three more days and ended on Wednesday, November 28, 2018.
NIA is expected move to other areas beginning with La Nkwantanang/Madina Municipality from 3rd-22nd December 2018.
The Head of Corporate Affairs at NIA noted that one centre will continue to operate at Adentan to issue unclaimed cards and also register new entrants who could not register within the three-week window.
"Yesterday [Wednesday],we knew people will be anxious, a lot of people had gone to the centres to register and take their cards, but I want to assure them that the NIA office has one centre opened. That centre will not close. It will be open and attend to people who were unable to register during the period and those who were unable to register during the process," he added.
The NIA prior to the exercise at Adentan registered officials at the Presidency, Parliament, former presidents excluding John Mahama as well as some government institutions, giving out over 80,000 cards.
Leadership of the opposition National Democratic Congress had criticized the decision not to accept Voters' ID cards as proof of citizenship for those applying for the cards.
The NIA per the law backed by parliament, only accepts passports and birth certificates as proof of citizenship.
Commissioners of Oath
Palmdeti in an earlier interview on the Citi Breakfast Show said a number of Commissioners of Oath had been recruited by the judicial service to help in the registration of persons without the necessary documents to proof their citizenship.
"Our requirement mandates that…when you don't have the necessary documents, you should have a relative who has already registered to vouch for you under oath or two people who know you and can attest to the fact that you do not have the documents must also vouch for you under oath."
Source: Citinewsroom.com | Ghana