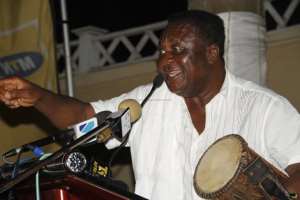 13.07.2022 LISTEN
Ghanaian music legend, Alfred Benjamin Crentsil, popularly known as AB Crentsil has died at age 79.
His death was earlier reported by sound engineer, Fred Kyei Mensah better known as Fredyma.
The news of the demise of the legendary music composer has been confirmed today, Wednesday, July 13, 2022.
"The "FAREWELL AB CRENSTIL. The original composer and singer of the famous and controversial songs, 'Moses and Atia, AB Crenstil, has died! He had a stint with a lot of bands before joining the Sweet Talks Band with Smart kansah and then his own band, Ahenfo. His hit songs, 'Juliana and Obi ba wiase', cannot be forgotten," a post by Fred Kyei Mensah on social media said.
The legendary musician born in 1943 enjoyed a glamorous music career that spanned decades.
During his active days as a highlife musician, he composed a lot of hit songs and was considered one of the best in his era.
He won a number of top awards including the famous Fontomfrom Evergreen Award, a special honor for a musician with 15–20 years of continuous music experience
Ghana and the world can remember AB Crentsil for some of his popular songs such as 'Juliana', 'Angelina', 'Ayen, Devil', and "I Go Pay You Tomorrow"