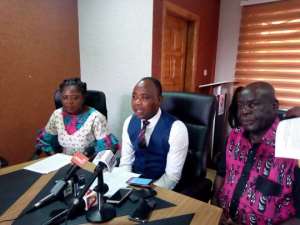 The Ghana National Education Campaign Coalition (GNECC) in a research conducted to assess the quality of secondary school education delivery in public schools has recommended the immediate decongestion in the schools.
The research report indicated that there was a high-class size of up to 160, which was negatively affecting teaching and learning, there was also congestion in dormitories as well as many students not receiving the full set of nine exercise books and four notebooks.
Mr Bright Appiah, the Executive Council Chair of the GNECC said the problems identified have led the organisation to recommend solutions to the Ministry of Education (MoE).
He said there was the need for an emergency plan to decongest all dormitories and classrooms, adding that the said plan should be implemented within one year.
He urged the MoE to commence a strategy to gradually reduce the number of boarders while increasing the number of day students admitted to reducing the percentage of boarders from about 70 per cent to 30 per cent by September 2020.
Mr Appiah said 'reserve the placement of free Senior High School (SHS) boarding students to only students who live in communities from where the nearest SHS is not easily accessible on a daily basis. This means the MoE must prioritize the use of the national address system in undertaking placement'.
He suggested that the MoE should convert 10 per cent of secondary schools into model schools where those willing to access boarding secondary education should be made to pay the full cost and such schools should be accessible in all the regions.
He requested that the MoE and government allowed head teachers to procure the schools exercise books and notebooks as was previously done to enable direct accountability of headmasters for any deficits in the supply of books to students.
'Probe the inadequate supply of exercise books and notebooks to schools outside the Greater Accra Region and make findings public,' he urged.
Mr Appiah said resources spent on lunch for day students could be saved and channelled into financing the infrastructure deficit if parents were allowed to play a role, in feeding their wards in schools.
The GNECC acknowledges efforts made by Government to address challenges facing the implementation of the free SHS Policy; however, based on recent assessment of the situation in secondary schools across the country, and previous view on the approach adopted by government to implement the plan, the MoE must have an open mind and not be defensive when approaching the proposed multi-track system.
He said 'after a year of implementation, there is still no secure and reliable funding for the free SHS policy, which is worrying. Having in place a sustainable funding plan prior to the rollout of the free SHS policy would have spared us the current quagmire'.
Mr Appiah urged the MoE to have a broad-based consultation with key stakeholders; teachers, who were implementers as well as parents and students who were directly affected by the policy, before taking major decisions