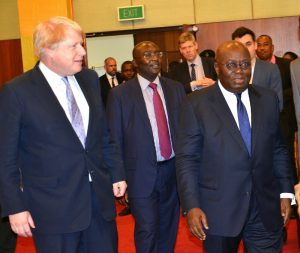 President Nana Addo Dankwa Akufo-Addo yesterday met with the Foreign Secretary of the United Kingdom (UK), Borris Johnson, to discuss, among other things, bilateral trade cooperation between Ghana and the UK.
After the closed-door discussion, the President and the UK Foreign Secretary described their meeting as fruitful and beneficial to both nations.
"I think it has been a very good discussion. I have enjoyed it, and I hope he has too," President Akufo-Addo told the media.
He said the discussion focused on improving the Ghana-UK trade and business co-operation, and added that, "we were both concerned about what we could do to improve the lives of our people".
Mr. Johnson, on his part, said there were great business opportunities in Ghana and expressed the commitment to convince British firms to come in their numbers to explore those opportunities.
"We discussed matters of common interest in foreign policy and security. We share a joint interest in ensuring the stability of the region (ECOWAS region) which affects us (Britain) in Europe," he said.
Mr. Johnson congratulated President Akufo-Addo for a smooth take-off of his government, while commending Ghanaians living in the UK for being industrious and hardworking.

By Yaw Kyei