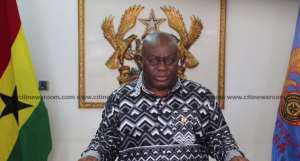 President Nana Akufo-Addo has touted the government's efforts to improve the living conditions of Ghanaians in all aspects of the economy.
According to him, his government since assuming political power has proven to be 'good managers of the economy' with the introduction of their policy initiatives.
Addressing MMDCES at an orientation conference in Madina on Wednesday [3rd October 2018], the President said the destiny of Ghana is in good hands.
President Akufo-Addo noted that the country had not imported a single grain of maize since the inception of the government's flagship planting for food and jobs.
He also explained that there has been an increase in the country's GDP growth rate from 3.65 in 2016 to 8.5 in 2017, which is further proof that the country's economy is on the right path.
In health, the President mentioned that the government has been able to revive the National Health Insurance scheme to make it more meaningful to Ghanaian.
He cited the introduction of Free Education as another policy initiative that has enabled 270,000 more Ghanaian youth to access high school education.
"We have shown over the past 21 months that the destiny of Ghana is safe in our hands. We have proven by all accounts to be good managers of the Ghanaian economy and we have made significant progress in all aspect of our nation's economy whether it is in the economy, where we have increased the GDP growth rate from 3.65 in 2016 to 8.5% in 2017, and have engineered a decline in the inflation and interest rate."
"…or in education where we have implemented the Free SHS policy which has enabled 270,000 more Ghanaian youth to access senior high school than they otherwise would have done or in health, where we have revived the National health insurance scheme so that the NHIS card is once again meaningful or in Agriculture where we instituted the program of planting for food and jobs which ensures that this year we do not import a single grain of maize,"the President said.
The economy is in good hands; we're steering it well – Bawumia
The Vice President, Dr. Mahamudu Bawumia, last month said Ghana's economy is in good hands and is headed in the right direction for growth.
He therefore advised Ghanaians to ignore naysayers who believe the economy is on a downward trend instead.
"Be reassured that this economy is in good hands. We are not where we want to be, but we believe that we are on course. But as all good sailors know, rough and turbulent seas are no indication that you are not steering well," he said.
S&P raises Ghana's economic rating to B
Ghana's credit rating has been raised from B- to B category by the international rating agency, Standard & Poor's.
According to Standard & Poor's, it raised Ghana's rating following "improved monetary policy effectiveness" and stable economic outlook.
"Ghana's improving banking sector stability and lower inflation supports our view that the effectiveness and transmission mechanism of its monetary policy has improved. We are therefore raising our long-term ratings on Ghana to 'B' from 'B-.' We are affirming the short-term foreign and local currency sovereign credit ratings at 'B.' The outlook is stable," S&P said in its recent report released on September 14, 2018.