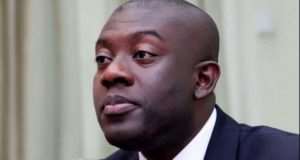 There's no ulterior motive such as ethnic or political considerations underpinning the decision to create new regions as has been suggested.
According to government, the creation of new regions is being done in accordance with laid down constitutional procedures.
"Those who seek to make claims that the exercise is tribally motivated or has an ulterior motive should desist from those non-factual claims and instead seek to convince the people of the affected areas to vote no at the referendum. And for those who are minded that these creations of these regions are important, they are also encouraged to convince the people to vote yes. But let us eschew all these unguided comments about tribalism or some untoward motive for the creation of these regions," Minister of Information designate, Kojo Oppong Nkrumah said at a press conference on Sunday.
Oppong Nkrumah made the comments on the back of an encounter the president had over the weekend with some Ghanaians in the U.S over plans to create the Oti Region.
Some Ghanaians living in the U.S. on Saturday engaged the President over the creation of the Oti region accusing him of indulging in what they described as land grabbing; a claim Akufo-Addo rejected.
Some have also questioned why the referendum for the creation of the new regions is limited to only the beneficiary communities.
But Oppong Nkrumah at the press conference said there is nothing wrong with limiting the referendum to only beneficiary communities saying that is what the constitution states.
"If you look at Article 5 (4) of our constitution, it spells out how the referendum should be done, and that is that. The commission of inquiry will determine whether or not there should be a referendum and the places where it should take place. This is consistent with how such matters have been handled in Ghana's history. Whenever there's been the need to do some more regions or merge some areas, this is how it has been done."
He said in 1949, the people of Krachi voted to join the Volta Region and it wasn't the entire region that voted.
"It was just the people of Krachi who participated in that referendum. In the 1956 plebiscite you recall that it was the people of the trans-volta Togoland who voted, not the entire Togo, they voted to join Ghana. This is how it's been consistently done. This is what the 1992 constitution says and that is what the commission of inquiry recommended. There are stringent constitutional thresholds that ensure that unless there is an overwhelming demand by the people of these areas affected, these new regions cannot be created. There must be a 50% turnout and 80% yes vote," he added.
The Commission of enquiry proposed the creation of six new regions.
Currently, about 55 districts are expected to take part in the referendum which will be held before the end of 2018.
"It is upon the recommendation of this commission that 55 districts within the now 6 proposed regions will participate in the referendum in 2018 to determine whether or not these regions should be created."