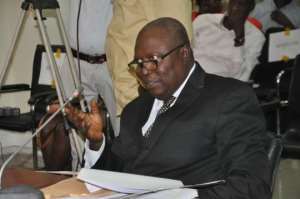 Mr Martin A.B.K Amidu, the Special Prosecutor nominee, has stated that he accepted President Akufo-Addo's s offer because he wants to stop the leakages that have bedevilled the country.
According to him, the country must be stabilised by protecting the national purse and ensuring that the citizens benefit immensely from the nation's natural resources.
'It's important that this country is stabilised to make sure that no one gets the excuse to stage a coup. This can be done when we protect the national purse,' he said.
Mr Amidu said this when he appeared before the Parliament's Appointment Committee to be vetted.
The choice of Mr Martin Amidu was announced by President Akufo-Addo as the nominee for the Office of Special Prosecutor on January 11, 2018. The Office is to help in the fight against corruption.
Mr Amidu said corruption had, in times past, caused the destabilisation of the country and recalled instances under the Provincial National Defence Council (PNDC) era where people were executed by firing squad for corruption.
He said Ghana was not a 'milking cow' for people to take advantage of and loot from the public purse.
Answering questions on how he intends to fight corruption in the country, Mr Amidu said he intended to establish 'strong institutions' and employ independent investigators to be able to succeed.
Mr Amidu also stated that he had rejected awards given him for his anti-graft crusade work, adding that the works he did were in the interest of the country and would not accept awards for them.
'I generally don't accept awards. I would prefer people to emulate what I have done. People called me about my case at the Supreme Court and offered me awards but I told them that it wasn't about me, it's about Ghana,' he said.
'It is not about Martin Amidu, I refuse awards because I want my work to be centered on national need of developing Ghana,' he added.
Mr Amidu's comments followed queries from the Committee as to why there were no awards stated in his Curriculum Vitae (CV), which was considered 'strange' bearing in mind his many achievements and articles published.
He said, for him, lobbying for honours was not his style, adding; 'Ours is to dedicate ourselves to the service of this nation without making any efforts for recognition because we joined the system not for awards but for what we can do for the people'.
He noted that he had many times been written to and called upon to receive awards, but in those cases he encouraged others to emulate his example instead.
Mr Amidu further stated that whether the Committee approved him or not, he would continue to fight for the country, adding that he is the best man for the job.
He said as Chairman of the Public Agreement Board under the erstwhile PNDC, Mr Amidu explained that he performed a lot of scrutiny on government contracts before they were passed and that could guarantee his record of being patriotic.
'…And that is why if you want anybody who will be meticulous in investigating and prosecuting, the President has made the best choice for you…but if you want anybody who will look the other way, just disapprove me,' he added.
The vetting of Mr Amidu went on despite a suit being filed by Dr Dominic Ayine, a former Deputy Attorney General, at the Supreme Court on Monday arguing that the nominee is too old to hold the position.
He prayed the court to annul the appointment because 'by reason of his age, (66 years), Mr Amidu is not qualified or eligible to be approved by Parliament as the Special Prosecutor under Section 13(3) of the Office of the Special Prosecutor Act, 2018 (Act 959).'
GNA
By Christopher Arko, GNA