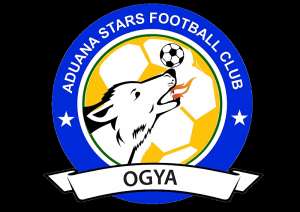 The skipper for Aduana Stars Football Club, Emmanuel Akuoko, says the motivation received from the team's life patron, Dormaahene in the Brong Ahafo region, Nana Agyemang Badu II, was enough to turn down lucrative deals from Accra Hearts of Oak Sporting Club and Kumasi Asante Kotoko Footbal Club to play for them.
The skipper said the life patron provides the team anything they need and it would be very difficult for any player to leave for another local team, unless it's a foreign contract.
"He told me he will offer me more than what Kotoko were willing to give, when I was approached by the Kumasi based club," he said.
The skipper revealed this on OTEC FM' Royal Sports' programme hosted by Isaac Osei Akoto Kanu on Monday.
Aduana Stars qualified to the Premier league in 2009/10 season, and made a history by clinching the title the same year.
This is the club's second trophy since joining the premiership.
He said since joining the team, he has received a lot of offers from the local football clubs, but turned down all of them because he was not sure if any of the club can satisfy him like what he had been enjoying at Aduana.
"In fact Nana Agyeman Badu II is like a father to us, gives everything we need, our bonuses are big. He has helped some of us to succeed in life, how we can abandon him" Akuoko revealed.
He added that the motivation received has helped them to come together, played as a team, and has helped them to join the premiership this season.
"I pray God grant him (Nana Agyemang Badu II) long life to continue the good his deeds to help the club win more laurels" he concluded.