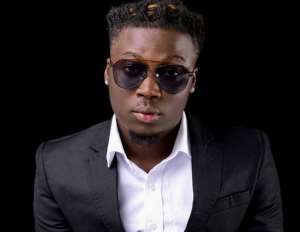 There is a new twist in the trial of hiplife artiste Eugene Ashe, aka Wisa Greid, who is before an Accra Circuit Court for allegedly showing his manhood on stage while performing during a live show at the Accra International Conference Centre (AICC).
The 'Ekiki Mi' hitmaker yesterday opened his defence, where he told the court that he used a dildo (artificial manhood) on stage while performing and not his real manhood as is being alleged by the prosecution.
Led in his evidence in chief, his lawyer, Jerry Avenorgbor, Wisa Greid told the court that the 'Decemba 2 Rememba' concert organised by Citi FM on December 24, 2015 was his biggest platform to put up a performance that "can be remembered and generate news to make me popular".
"On that night, I fixed a fake manhood which I was wearing under my boxer shorts. So during the performance and when I was almost done and about to leave the stage, while dancing with the dancer that I used, I pulled out the fake manhood that I was wearing under my boxers from the front and that was it. I left the stage," he recounted.
He told the court that after he left the stage, nothing happened until the next day when the video went viral on social media and the news broke that he was invited by the police to come and answer some questions.
Weisa Greid stated that although he displayed a fake manhood, he decided to apologise on radio and television because of the perception the incident had created in the public, including his family and management "so I thought by doing so people will forget so I could move on with my career."
The hiplife artiste has subsequently tendered into evidence the fake manhood, strapped on a belt to the court as what he used on the night.
He added that a member of his team who was backstage was aware of his plans to use the fake manhood.
The court, presided over by Mrs Abena Oppong Adjn-Doku, then adjourned the matter to March 1, 2018 for the prosecution led by Inspector Judith B. Asante to cross-examine him.
The 'Ekiki Mi' hit singer is standing trial for allegedly showing his manhood during a live performance on December 24, 2015 during the 'Decemba 2 Rememba' event at the Accra International Conference Centre (AICC).
A video of the artiste stripping and rubbing his manhood against his female dancer on stage was put on social media, compelling his management to apologise for what it described as the artiste's "rash and irresponsible behaviour".
-Daily Guide