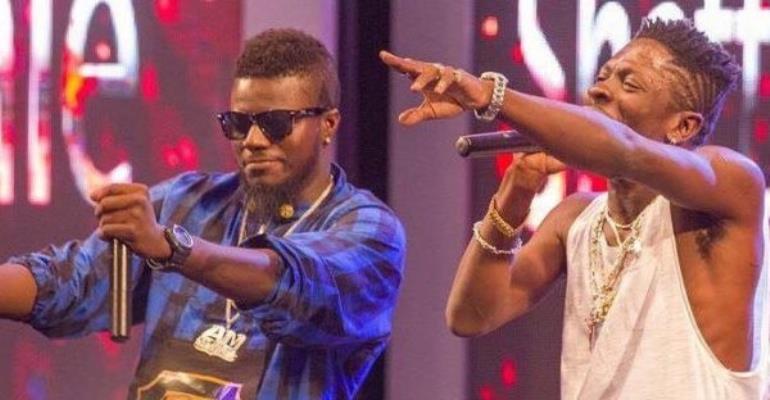 One of Shatta Wale's bosom friends, Pope Skinny, who is a hiplife musician and host of 'Kasahari Level' on Adom FM, has hinted that he's also open to being signed on to Zylofon Music.
Speaking in an interview with Pamela Boateng on Spyderlee Entertainment TV the 'Hot Cake' hitmaker stated that he is hoping to be signed on to a big record label too.
He made this known at the signing of Shatta Wale on to Zylofon Music held at Zylofon Media in East Legon on Wednesday, January 31.
The three-year record label contract is a 360 management deal, where the record label manages all the business activities of the Shatta Wale brand.
The rapper said, "…we're all hoping to get endorsements like these. It's my dream to be signed on to a big label like this…I'm so open. I mean if it comes I'll just laugh and thank my God and just embrace it."
"He (Nana Appiah Mensah) is a good person; I've had the chance of meeting and interacting with him. So who knows? I mean the money is good, the business is good, the environment is good; who wouldn't wish for this?" the Asuoden music CEO stated.
When asked what he thinks the fate of Shatta Movement will be after the signing of their CEO, Pope Skinny added that this is what they've all been waiting for and they will rally behind Shatta Wale all the time.
"It's a big platform for Shatta Movement. This is what we've all been waiting for. This is the first time someone is pumping this much money in the arts industry. Our kind of work needs more money to go places so if we have a big platform like this which is ready to invest in what we do, I mean this is the best thing we could all wish for. Members of Shatta Movement are so happy," he said.
"Before the signing, we were doing big exploits with our own money, strength and other resources," Pope Skinny added.