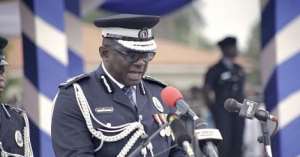 The Inspector General of Police (IGP), David Asante Apeatu , has been found guilty of contempt by an Accra High Court.
He was found guilty for wilfully refusing to execute a court order concerning the sale of a 12-block flat, Accra-based Joy FM reports.
Two citizens, Samuel Aggrey Jnr and Augustine Gyekye, dragged the IGP to court over confusion surrounding ownership of the property.
The case, which has been in court for almost two decades, started when a woman, Mrs Aggrey (now deceased), filed the case against REDCO Company limited.
The complainant claimed that the company owed her some money, and went on to win in the ensuing legal battle.
The court, in its ruling, held that a 12-block flat at Madina belonging to REDCO be sold, should be company fail to pay the money owed to the complainant.
After losing an appeal, REDCO defiantly gave out the property to the Ghana Police Service to house some of its officers.
This forced the applicants to head back to court in a bid to get the Police to vacate the property.
Instead, the Police refused to evacuate, rather deciding to claim ownership of the property.
The applicants then sued the IGP for contempt, arguing that it is illegal for anyone to sell or buy the property since it is in the custody of the court.
They also accused the IGP wilfully disobeying orders to provide security for the execution of a court order for the sale of the 12 block flats.
Presiding judge, Justice Daniel Mensah, subsequently ruled in favour of the applicants, citing the IGP for contempt.
'It is my humble opinion that the defence offered by the respondent after the applicant has successfully proved his case, is not legally tenable and the respondent has therefore failed to fully discharge the burden required to avoid a conviction and must, therefore, be committed for contempt of court and sanctioned accordingly,' Justice Mensah ruled.
Meanwhile, the court is expected to give its sentence on October 25.