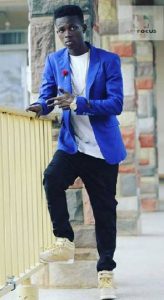 Skyrocketing Hip-hop artiste, Strongman, has said he will 'rap in Twi till enters his grave'.
The young rapper who has released several hits is known for rapping fluently in Twi and has been rated one of the best wordsmiths who portray the Ghanaian indigenous culture in their songs.
The "Against" hitmaker who rose to fame after emerging the winner at the maiden edition of 'The Next Big Thing in GH Hip-hop' reality TV show has proved on several platforms that Twi is not a limitation when it comes to rap or music in general.
Responding to a question about whether language is a barrier in music or not, Strongman asserted that language has nothing to do with music. To him, many Ghanaian musicians are releasing hit songs in different languages because of the melody and rhythm, not the language thus, he will 'rap in Twi till death'.
"Language is not a barrier in music. I will continue to do Twi till I die," he said. "Sometimes, I will try to switch styles and do English a bit but that doesn't mean I will eradicate the Twi and do English."
He argued that rapper Edem's songs are hits even though he raps in Ewe, his rhythms and melodies put his songs out there.
"Edem is doing Ewe but still, we are listening to him. When he raps I don't hear anything but I just like the rhythm and melody in his songs and other stuff so as a matter of fact, language is not a barrier in music."
Strongman is a graduate of the University of Cape Coast. He graduated a month ago. He is the C.E.O of Strongman Empire record label.