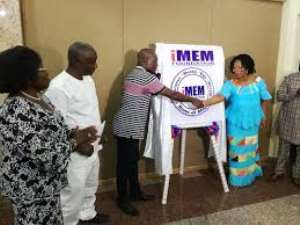 iMEM Foundation Launched
iMEM, a Foundation established to support and advocate for leadership which will transform and sustain the fortunes of Ghana has been launched at a ceremony held at Majorie Y Hotel in Tema.
The Foundation will centre its efforts on leading advocacy in the areas of natural resources governance, combating corruption and creating awareness about "African-ness".
There will also be an objective hinged on charity.
Speaking at a media launch of the Foundation, Mrs Comfort Aniagyei, Director of iMEM, said the reason for establishing the Foundation was to ensure there is adequate advocacy aimed at ensuring that people have control over the management of economic and social affairs.
She continued that through the intervention of iMEM and other civil society organisations, strategies adopted by foreign powers aimed at keeping Africa dependent on external help will be dealt with to ensure that the trend changes.
Mrs Aniagyei noted that Africa has gone through various stages in its quest for development and prosperity for its people.
The history of Africa, according to the iMEM director, is littered with many traumatic upheavals notably the abominable slave trade which deprived it of its human and other resources like gold and other precious minerals.
She added that Africa subsequently suffered under the yoke of colonialism with its attendant evils visited on its people once again.
She pointed out that the 20th century saw a rise in movements for the independence of the various countries of Africa seeking to dislodge the rule and domination of the Whiteman from Africa.
"Events subsequent to 6th March 1957 show that we were physically liberated but the extent of our dependence on the Whiteman attained stratographic levels once we managed to oust them as our overlords", she commented.
Explaining to her guests what each alphabet in the Foundation's name stood for, Mrs Aniagyei pointed that the alphabet (i) stood for ignorance, (M) for money, (E) for ego and the last (M) for morals.
Explaining in detail the rationale behind each of the alphabets in iMEM, she said the issue of ignorance was such that Ghanaians allow ignorance of the history of Ghana and worse still, ignorance of the world order to keep them glued to everything foreign adding that such situations informed the birth of GhanaMade, a company that markets and sells only made-in-Ghana products.
On the "M" that stands for money or corruption, the iMEM Foundation director explained that a lot of ink has been expended by many writers on the evil long-term effects of corruption and how it keeps Africans hungry for food, education, infrastructure, health in the midst of all the human and other natural resources available to continent.
The alphabet "E" according to her, represents leaders' Ego that gets in the way of their ability to take the right decisions with the last "M" referring to morals. She opined that leaders who do not draw the line between business and pleasure are always comprised by the proverbial "pretty woman syndrome".
She mentioned that in some cases sex had been used by opponents to sway a leader from making or implementing the right decisions that could lead to development for our people.
"The march for the attainment of true independence for Africa calls for leadership which is mindful of the iMEM factor".
"When our President, His Excellency Nana Addo Dankwa Akufo-Addo talks of "Ghana beyond Aid", she believes he has in mind a Ghana governed by leaders who have overcome the iMEM factor", she added.
She also stated that leaders make or unmake great nations and added that the state of a nation's development is reflective of the type of leadership it has had. "If our leaders can overcome the iMEM factor, they can lead this continent to an Africa beyond Aid" Mrs Aniagyei commented.
"iMEM Foundation recognizes that like the fingers on our hands, we can never all be self-sufficient as individuals or institutions and on many occasions, some of our brothers and sisters may need a helping hand", she noted.
She announced plans by iMEM foundation to do two separate donations, an incubator to the Tema General Hospital and some books written by African Writers to the Ghana Institute of Journalism (GIJ).
For her part, the chairperson for the ceremony, Mrs Leticia Osafi-Addo, Chief Executive Officer (CEO) of Samba Foods Limited outline what she said are three major problems that Ghana and most African countries faced hence the reason for those countries not doing well.
She mentioned lack of technology, institutionalized corruption and the fact that leadership, over the years, has taken the greatest assets of the nation, its people, for granted.
She added that the launch of iMEM Foundation could not have come at a better time than this when most people instead of working to improve Ghana's lot were rather amassing wealth for themselves, hoping that iMEM foundation through its advocacy, will reverse the
For Majority Leader and Member of Parliament (MP) for Tema West, Abraham Osei-Aidoo who was the guest speaker at the launch ceremony, he was of the view that fighting poverty could only succeed if we fight corruption, insist on the equitable, prudent and accountable use of our natural resources by our leaders and public officials.
He lauded the directors of iMEM foundation for taking steps to join civil society organizations to ensure that Ghana's resources are well managed.