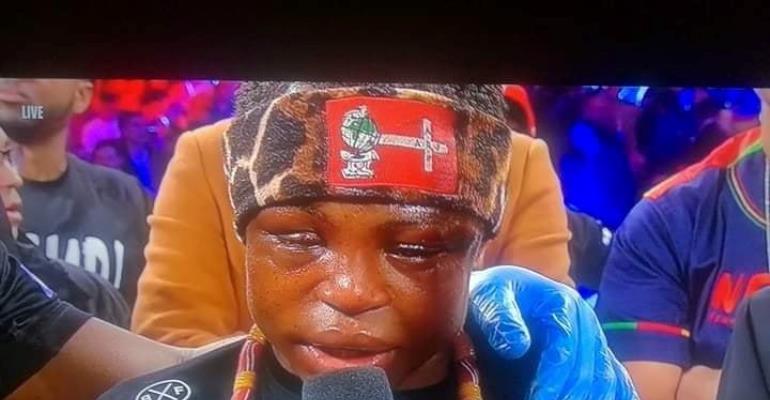 Emmanuel Navarette redefined what it means to go against the script. He wasn't supposed to be the victor. He wasn't supposed to hand Isaac Dogbe a battering. He wasn't supposed to return to Mexico as the new WBO Super Bantamweight champion, at least not on paper and in the mind of Isaac Dogbe and his father Paul.
Isaac Dogboe wasn't short on confidence ahead of the fight. He's never been short of self-belief, it's second nature for boxers and politicians, the latter when they put themselves up for election. They're usually sure of victory until the numbers begin to tell the real story. 115-113,116-112,116-112 were the numbers from the judges in what looked like a horror movie. The dethroned WBO Super bantamweight king had no qualms. How could he? He had endured a 36 minutes battering at the hands of his Mexican opponent who came into the fight as a huge underdog. Almost every preview ahead of the bout called a Dogboe victory somehow. Mine was no different. It looked written in the stars but somehow Navarette realigned the constellation.
The game plan
Emmanuel Navarette's reach was the biggest asset analysts pointed to before the fight and he made use of it to devastating effect. Forget the fact that Navarette weighed more than Dogboe, the telling physical disparity was the 157cm-170cm height handicap against Dogboe. Team Dogboe's first job was to develop and execute a strategy that neutralized Navarette's reach but they appeared to rely on the game plan from previous fights. And why not? Isaac had shown great intensity in his last two fights against Jesse Magdaleno and Hidenori Otake and it made sense to stick to the winning template. The difference, however, was the sheer difference in height and reach. A different game plan could have been mapped out if Isaac Dogboe had speed, the Amir Khan type of speed which makes nonsense of reach. Isaac Dogboe is not the quickest of boxers. What he possesses is raw power and as he showed against Jesse Magdaleno. So it made sense that a game plan was fashioned out around these attributes, but as opined by Iron Mike Tyson "Everybody has a plan until they get punched in the mouth."
Dogboe began the fight well, closing the distance to negate the over analysed Navarette reach. He fought on the front foot in the first round. As far as game plans go, it was perfectly executed in round one. The fight looked to be following the trajectory of his two previous fights but when Navarette came up with questions, questions about Dogboe's physical conditioning and endurance the champion caved in. The hunter soon became the hunted and by the fifth round, Navarette had established full control. It looked clear from that point that if the fight travelled the full distance the judges would favour the Mexican. The champion looked out of his depth, he looked shocked, bemused even, at the sheer amount of violence that was coming his way. A resurgence in rounds 7 and 8 did not yield the much needed KO which would have rendered the scorecard academic. It got worse as the Mexican dominated the remaining rounds to secure a unanimous decision victory.
Truth is Isaac Dogboe was poor. You can give him credit for ending the fight on his feet but it does nothing to the fact that he didn't look anything like a champion. The four rounds he won will flatter him because he knows this was a battering. The key question, however, is how Dogboe caved in after the first round. What accounted for his inability to stick to the game plan?
Lame excuses
Having mustered all of what remained of his strength to give us three shouts of NEHO, a disfigured Isaac Dogboe proceeded to say among other things "we underestimated him(Navarette) a bit".
The claims were confirmed by his father Paul. "You could see in most of the rounds that Isaac's legs were gone because he wasn't fully fit. Mistakes were done which we paid the price. We underestimated Emmanuel Navarette. I wouldn't say we prepared like how we used to prepare because we were having a lot of visitation."
It was honest as it was heart-wrenching coming from a boxer who captured the title just eight months prior and was defending it for only the second time. It's the last thing you'd expect from a boxer with ambitions as lofty as becoming the first pay-per-view star from Africa. It's the last thing you'd want to hear from anybody who's serious about his craft.
It betrays a lack of seriousness and a full grasp of top-level boxing. If the earlier quotes showed a lack of seriousness, Paul Dogboe's belief that they thought they "were going to knock out Navarette before the fifth round" was downright arrogant.
What was he thinking? That the title was a birthright for which reason they would just run through every challenger under five rounds? Navarette earned the fight because he was ranked number two on WBO ranking, it sure should have counted for something. He comes from the rich Mexican boxing tradition. It should have counted for something. Underestimating an opponent in combat sports is the highest form of disrespect and they sure did pay the price. Those words will surely not excite Bob Arum and Top Rank with whom Isaac Dogboe signed a promotional deal recently.
Moving forward
Paul Dogboe has done brilliant work with his son but it's time to take a step back and hand over to a more experienced trainer. Isaac Dogboe has loopholes that need to be plucked if he's to recapture the title and prolong his reign at the top. His defense has never really been the best although he's shown improvements in some fights. It is clear that Paul Dogboe is training his son to be something of a knockout specialist. It sounds exciting but not all boxers can be taken out which makes having back up plans vital at this level. There were moments in the fight against Navarette that a plan B was desperately needed but there was none. The game plan was one-to knock out Navarrete. A more experienced trainer would work out plans from A-Z. Employing a more experienced trainer allows Paul to learn and equip himself with the tools he lacks. Father and son duo is commonplace in boxing. Floyd Mayweather went through his career undefeated, mostly under the guidance of his father but to use that as a justification for Paul's continuation as lead trainer for Isaac would be a mistake. The Mayweather family has always been synonymous with the sport. By the time Floyd Mayweather laced up a boxing glove, there was so much experience to aid his tutelage because his father Floyd Snr and brothers Jeff and Roger had all fought as professionals. Julio Cesar Chavez trained his son Julio Cesar jr. Julio Cesar Chavez is world boxing royalty. It's great to see a father and son combination but when there are obvious flaws they must be addressed even if it means a father must take a back step. The father and son union must make sense.
The past is written and the ink is dry. The defeat by Navarette cannot be undone. The records will reflect it. History will remember that Emmanuel Navarette handed Isaac Dogboe his first defeat and took his title…scratch the second part of that statement. The title doesn't belong to Dogboe, it never has and never will. World titles are not bonafide properties. Titles are won and can be lost. You keep it so long as you keep beating your challengers. Hopefully, the Dogboe's have learnt that. Redemption will surely be on the mind of Isaac Dogboe but the route he takes towards that goal is as important as the goal itself. It would be a huge mistake to jump right back into the ring with Navarette for a rematch given the manner of defeat. This wasn't a close fight, it was a battering that will rattle Dogboe psychologically. Taking a couple of fights(not necessarily easy ones) to build up his confidence and conditioning is more sensible. The risk of a defeat in an immediate rematch will have grave consequences. It will shatter his confidence and make his route back to the top much more difficult. The climb back to the top must be patient and well thought through.
Isaac Dogboe is far from finished. This is a setback, a fall, but Ghanaians and team Dogboe can perhaps take solace from the words of Criss Jami "The harder you fall, the heavier your heart; the heavier your heart, the stronger you climb; the stronger you climb, the higher your pedestal."